Shane Cheng & Peggie Bu
Dear Eddric,
We would like to express our sincere thanks to The Westin Singapore, Eddric and your staff for your superb service in the reception for our wedding.
On our preliminary visit with you, we felt such confidence that the services at The Westin Singapore would meet our expectations. This confidence only grew over the months to follow as we developed our menu and event.

The convenience of your complimentary bridal suite is a wonderful addition to the comfort of the day as well as the accommodations made to suit our requirements. Each staff member treated both us and our guests with such professional service. They were both attentive and
skilled at keeping everything on schedule.

The bartenders and wait staff were courteous and efficient. Best of all, the food was outstanding. After the event, the guests only had positive feedback for the dishes. All courses were served timely and were delicious.

Most of all, thank you Eddric for making our journey with Westin so seamless and unforgettable.
The Westin Singapore has been an excellent business to deal with for our wedding.
- Shane & Peggie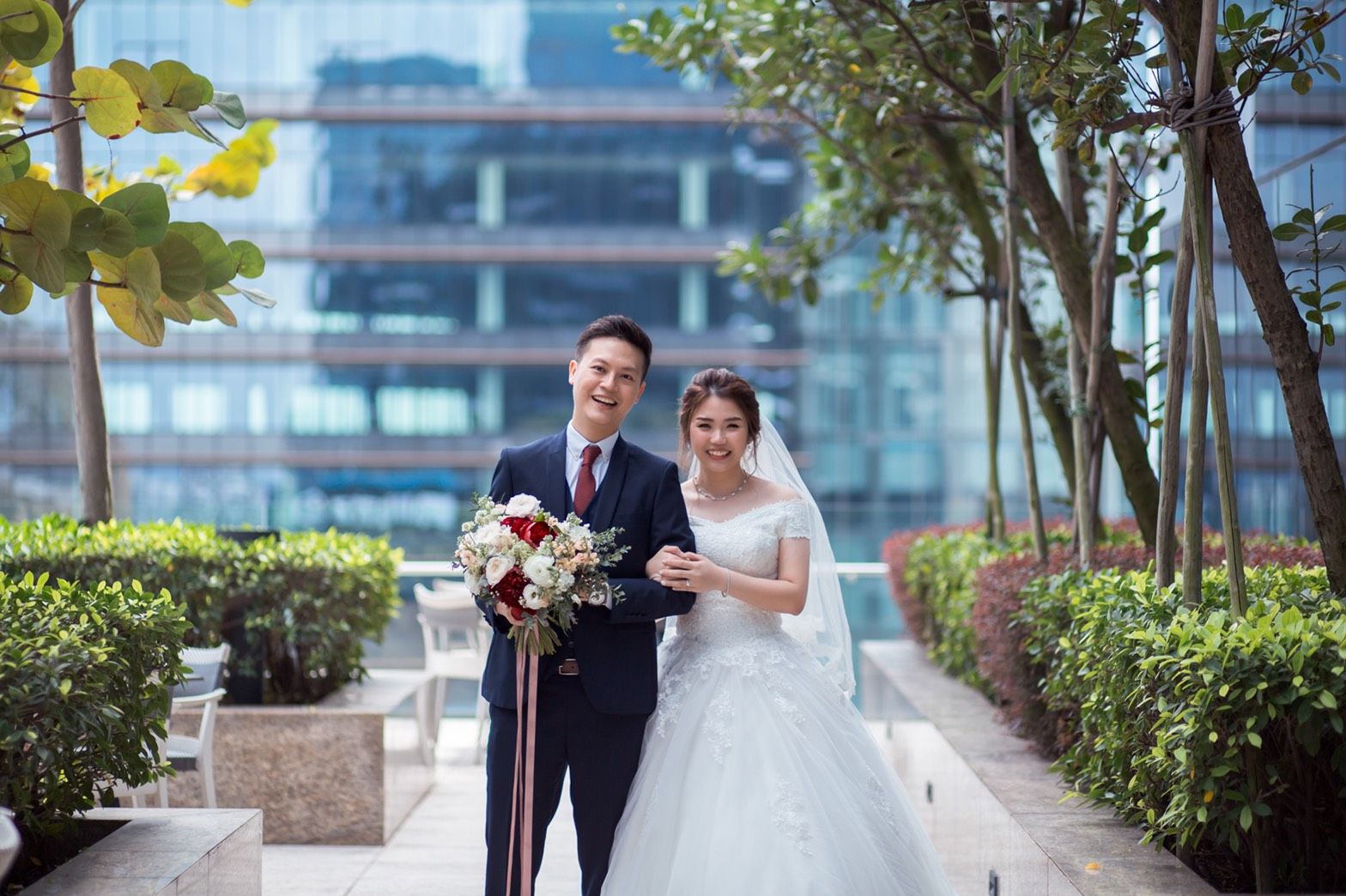 Raymond & Valene
Dear Eddric,
Allow me to offer my sincere gratitude and appreciation to you and whole of Westin that made our wedding night a huge success and so enjoyable for our guests.
Valene and I cannot tank you and your team enough for all the patience and assistance for the past 10 months i believe since our confirmation with westin to hold our wedding reception
We've had literally raving reviews from our guests about the food, the event flow, the banquet service. Everything down to food, service, venue, facilities were impeccable.
I would like to take this opportunity to thank your entire team:
Banquet Manager Rahmat for ensuring the entire event flows so seamlessly;
AV Manager Rusdy for making sure audio, video and lighting went on as per what we hoped for;
Chef Ivan for preparation of the banquet food; this is critical, people tend to hold lower expectations for actual banquet dinner to be of poorer standard than food tasting since it is mass prepared, however all our guests were so happy with the quality of the food prepared for them. One said that this is the first time when she (my mum's friend who is quite picky actually) had food served at correct temperatures; cold dish to be cold, hot dishes to be warm, soups to be hot, nothing at room temperature. It is really quite a big statement.
Last but not least, a huge shout to yourself, Eddric, who has been most helpful to us. My "brothers" also mentioned how helpful and patient you have been with them; assisting them in all their requests during the entire event. We cannot express enough of our thanks through this email. To quote one of our guests, verbatim: "the entire experience was so personable and hospitable. It was one of the best, if not the best wedding dinners i have ever been to." Westin is certainly one of the star venues for wedding receptions in all our guests minds now.
Once again, thank you to the entire Westin Team; you guys are really fabulous.
- Raymond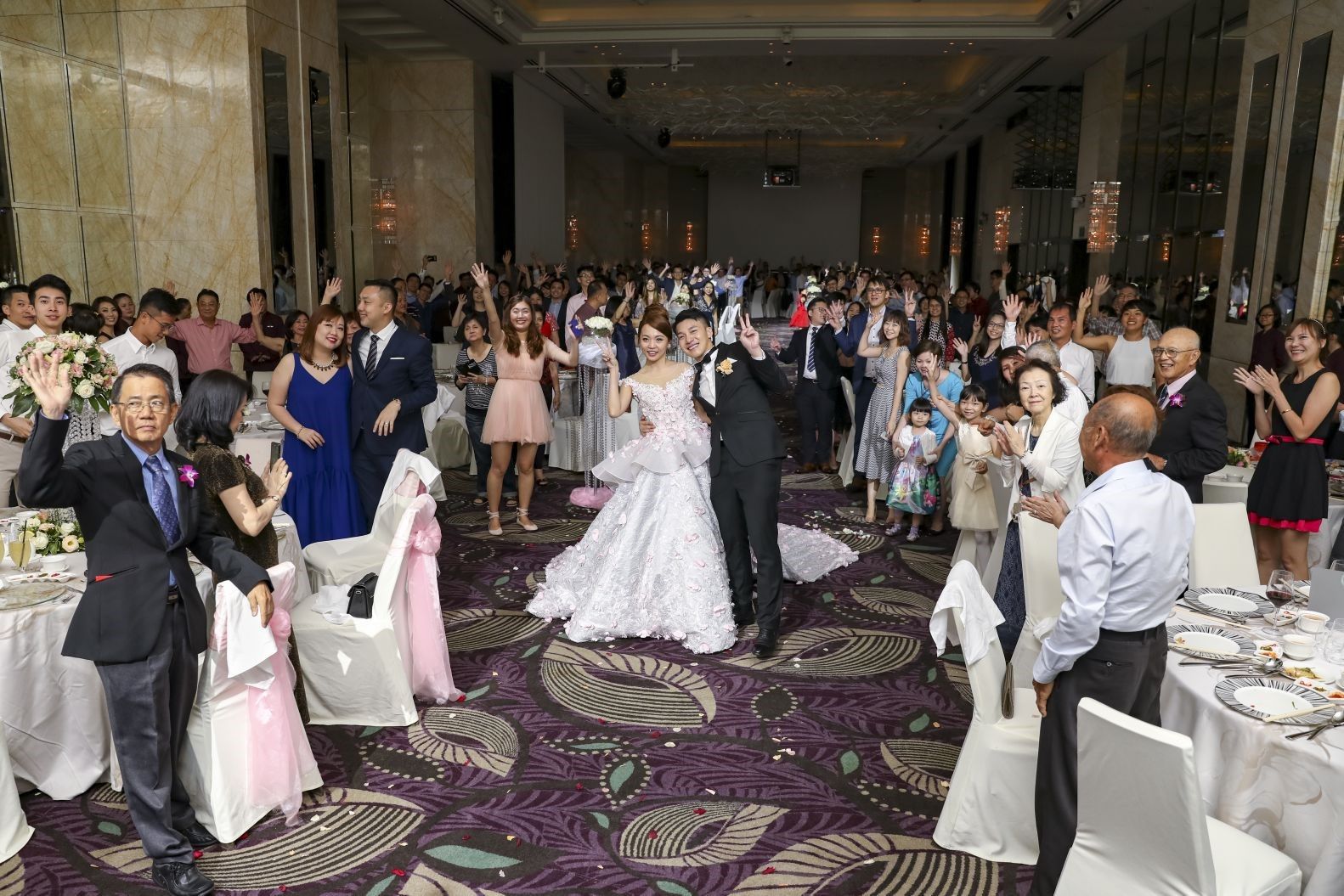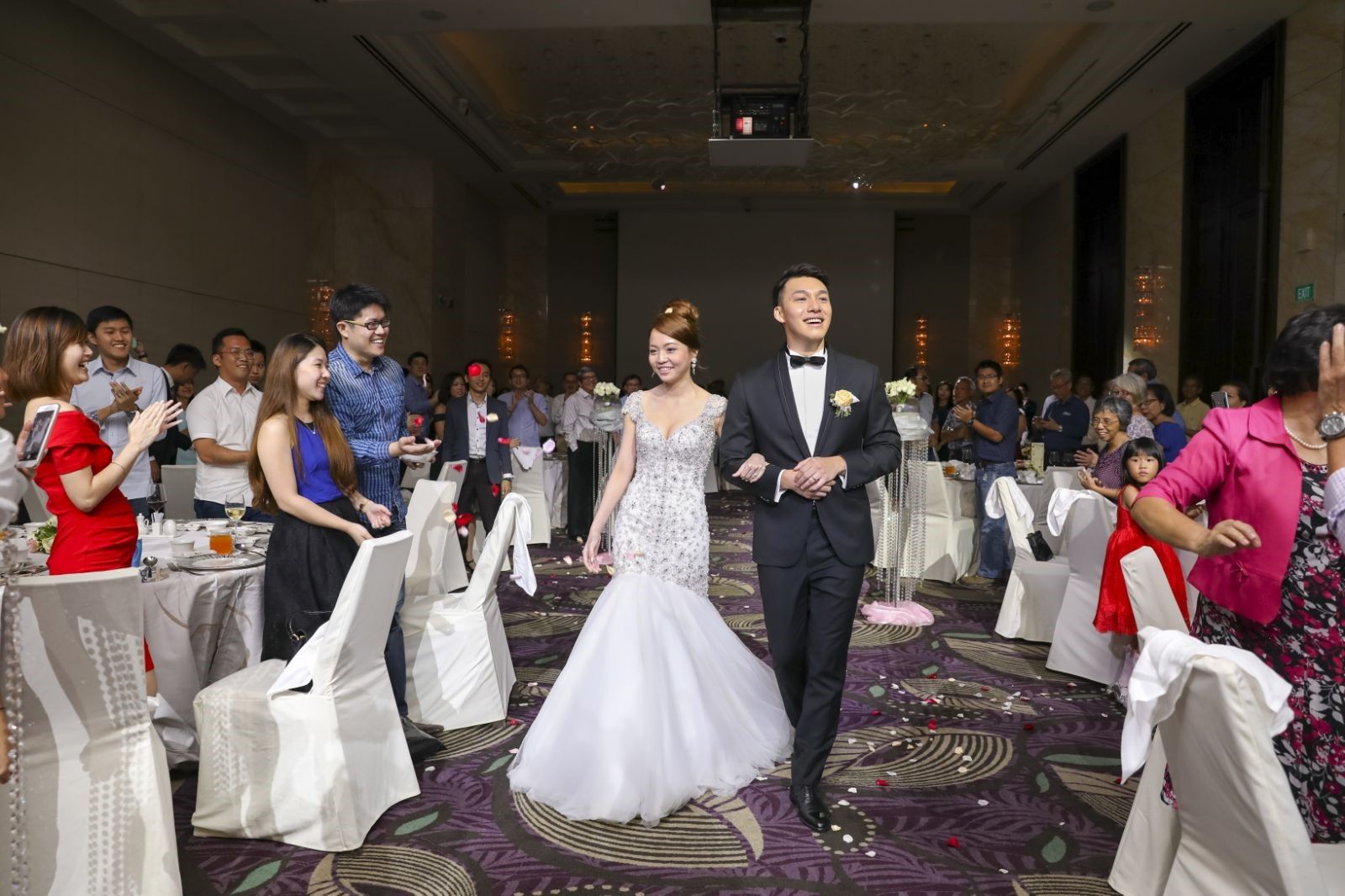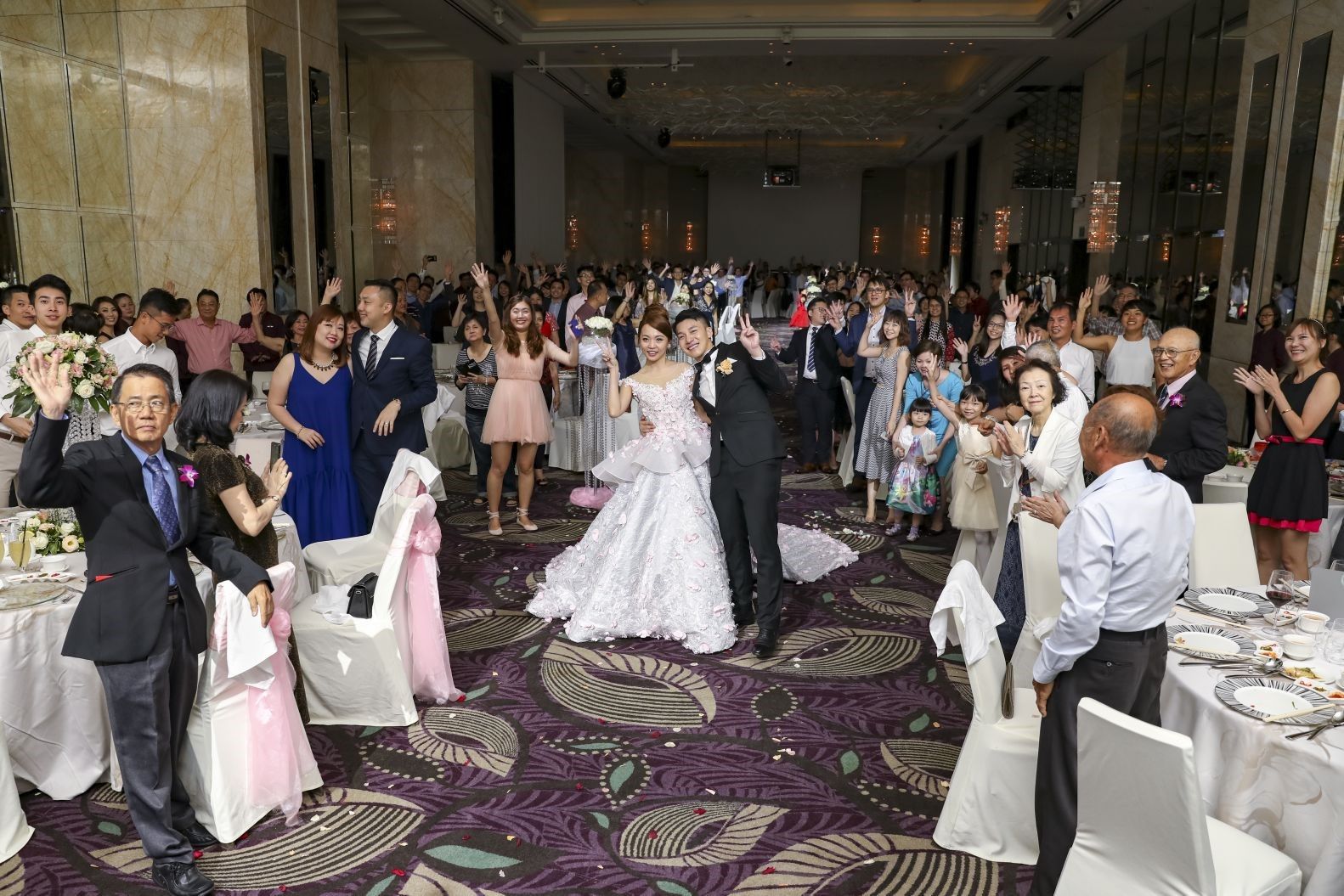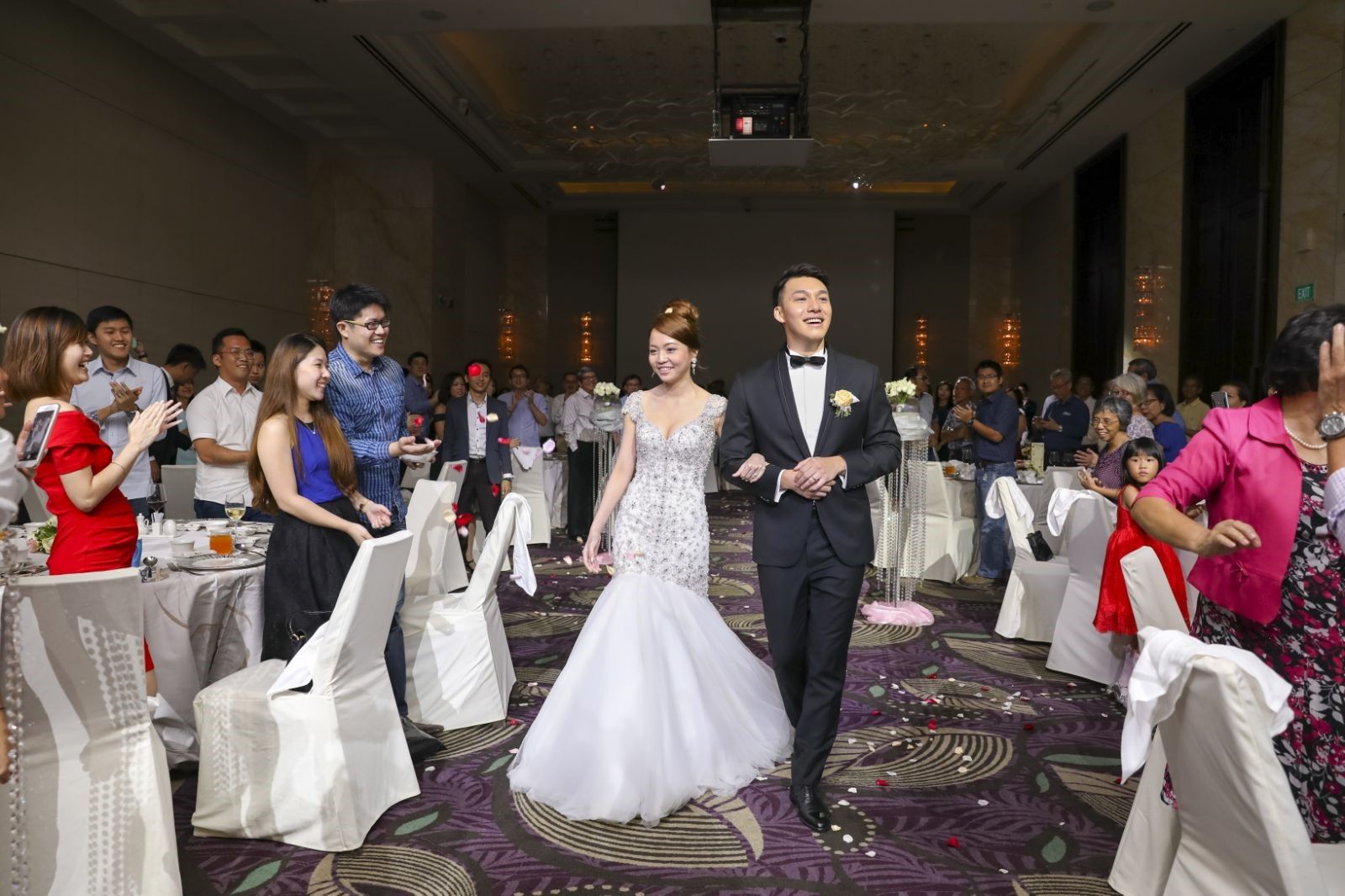 Albert & Evonne
Great services and class! Our experience with Westin was immensely wonderful! Our coordinator Eddric, while pitching for the hotel during our wedding venue selection, promised us that they will provide nothing but their best to ensure a memorable wedding for us. We were unsure if he will live up to his words at first. Then from signing up the contract till the actual wedding day, we had tons of requests and questions and met him several times. He remainined calm, professional and courteous throughout even though we threw in weird questions and requests. He is very meticulous and flexible in planning for our wedding; allowing us to deposit our items days before and helping to find our lost swarovski wine glasses. We had a lot of feedback during the food tasting and they took it in their stride. The dishes during the wedding were beyond expectations. It was heavenly, delicious, and all the guests raved about it!
Not only him, Rahmat who was the banquet manager had patiently advised me what to do throughout the wedding and every request I had was completed with perfection. He ensured the guests were well taken care of and the smooth proceeding of the celebration. He also taught me how to open a Champagne.
Yew Jing whom I heard was a part time staff was also superb! She followed the bride around, ensuring the bride was properly taken care of and was very sweet in her gesture to provide some refreshment right before we march in. In the midst of us feeling butterflies, these small acts really melted our hearts and calmed us down.
Gideon Hu, who was one of the banquet servers had demonstrated execellent service. He was very proactive in making sure the guests were well taken care of. One of the guests accidently spilled some drinks on the table and he came immediately to clean it up.
We are very thankful to this team for really putting their heart out for our wedding and it is with great gratitude whom we owed. Thank you team for your great work! You truly lived up to your promise and our expectations.
- Albert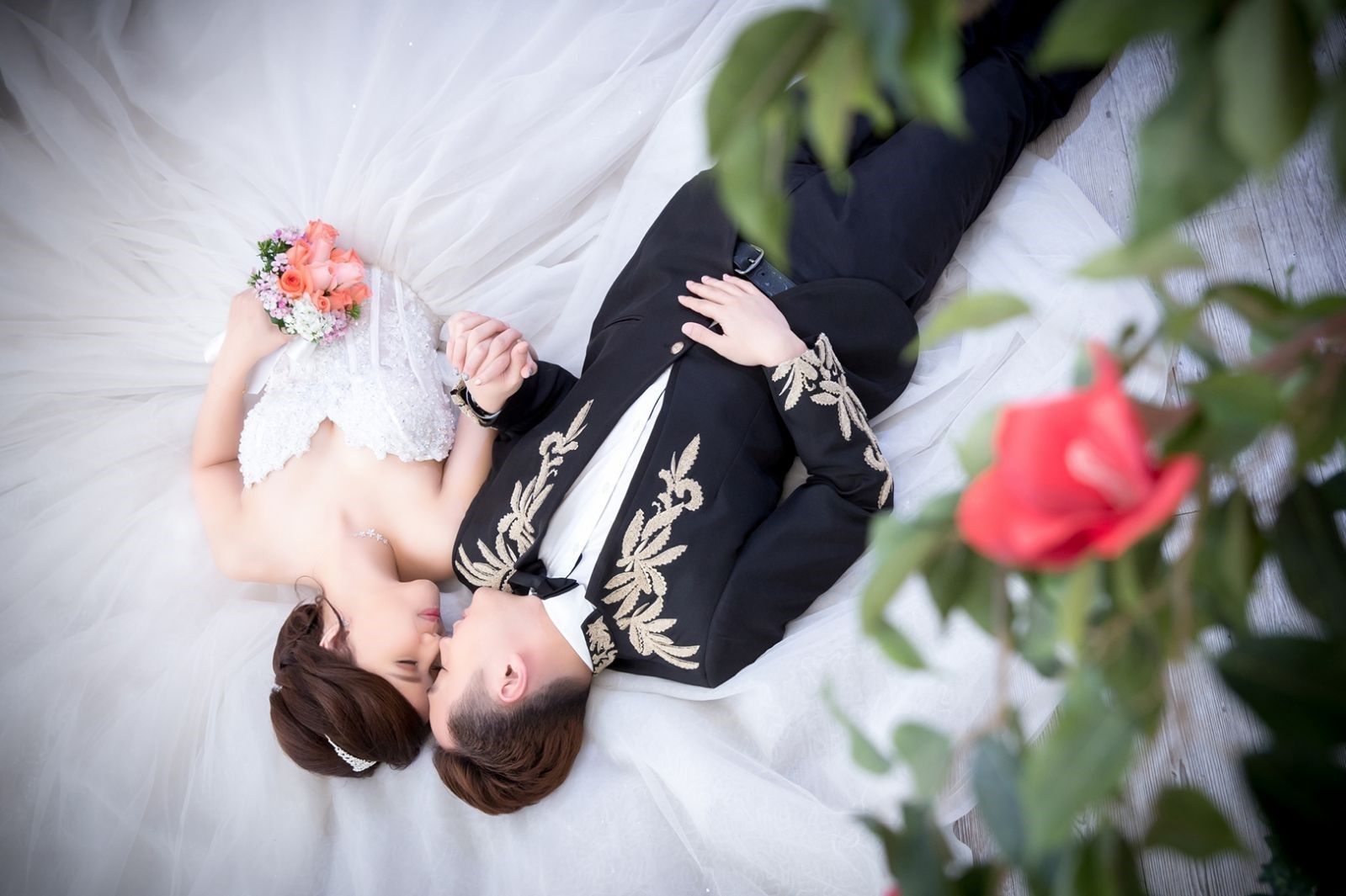 Han Qun & Pei Shan
We just had our wedding dinner banquet at Westin, and it was a wonderful experience. Eddric, our hotel coordinator, has been really helpful from the start to the end. Throughout our wedding preparation, Eddric was always one call/one text away, even on weekends, and he never failed to answer our neverending questions. Eddric will also remind us of important deadlines and ensure that our preparation is on track.
The service during our wedding day was excellent, and our guests were happy with the service. We also received many praises on the food. We were also well taken care of by the staff, and enjoyed the tea and canapés served in the afternoon.
Thank you, Westin, for the great service, and we look forward to coming back for our anniversary stay!
-Pei Shan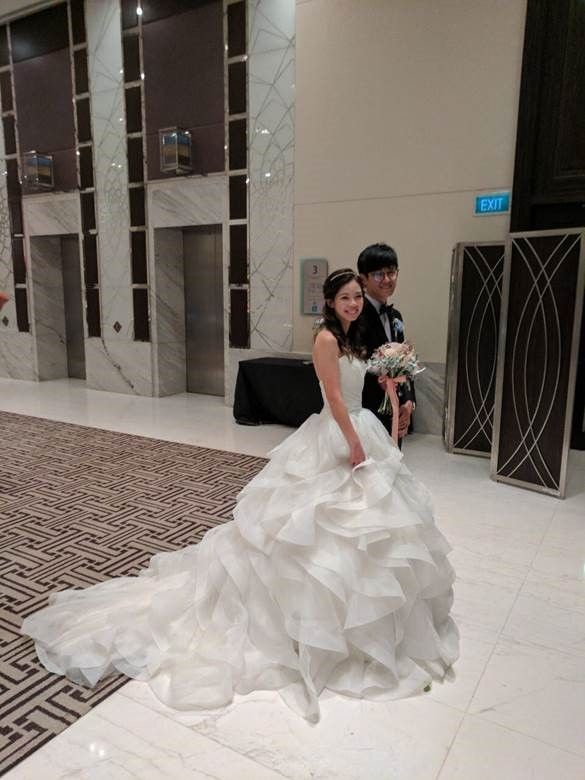 Hans & Yan Sia
I would like to comment how pleased I was with the service provided to me by Eddric Yang and team. Hans and I held our wedding banquet at The Westin Singapore on 3rd june 2017. We would like to extend our heartfelt thanks to the hotel coordinator, Eddric Yang, and his team for their exceptional service. His sincerity, professionalism, and friendliness made us decide to hold our wedding banquet at The Westin. Thank you for the prompt response to our overwhelming questions or clarifications and ensuring that everything would goes smoothly. We are truly honoured to encounter such a responsible and responsive hotel coordinator. He is truly a gem in The Westin Singapore.
We would like to say thank you to the chefs as well. A number of our guests sang praises about the food during the wedding banquet. Special thanks to the wonderful team of banquet staff. Keep up the good job!
- Yan Sia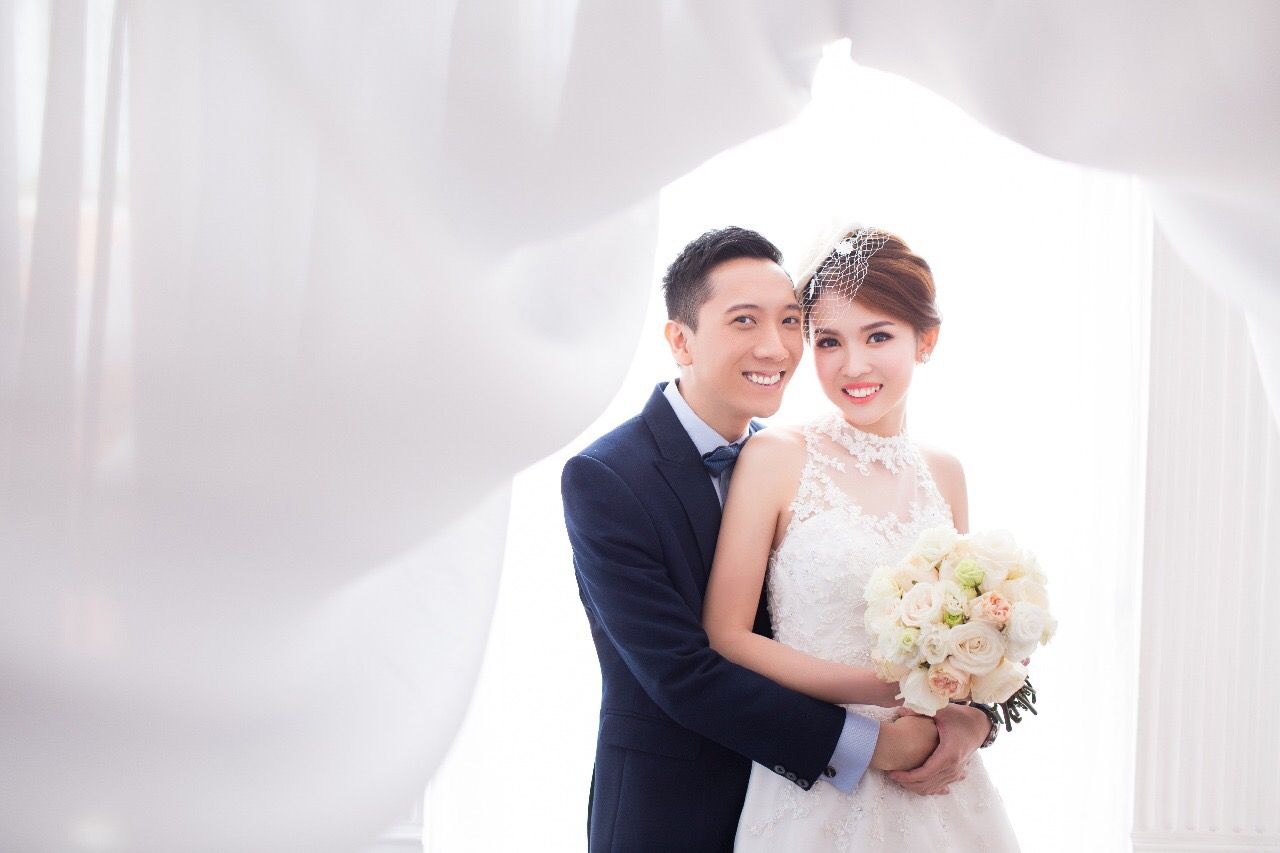 Minfeng & Sherlynn
Just had my wedding lunch reception at The Westin Singapore on the 7th May, and the experience that my husband and I had was way above our expectations. We were very pleased with both the food and service that was given to us and the guests. And especially to those who took care of us during the meals, they were very sweet to prepare for us hot honey lemon too! We would also like to give special mention to our wedding coordinator, Eddric, who has taken care of us so well right from the start of our wedding preparations till the very day itself. He is always there when we needed to clarify details and he is a very patient and attentive guy and will go the extra mile to get things done for us. It was really sweet of him to meet us when we arrive at the hotel and also when we were about to enter for our march in. Would like to thank once again to Eddric and his team for helping us out on the day itself and allowing the both of us to simply enjoy the process.
- Sherlynn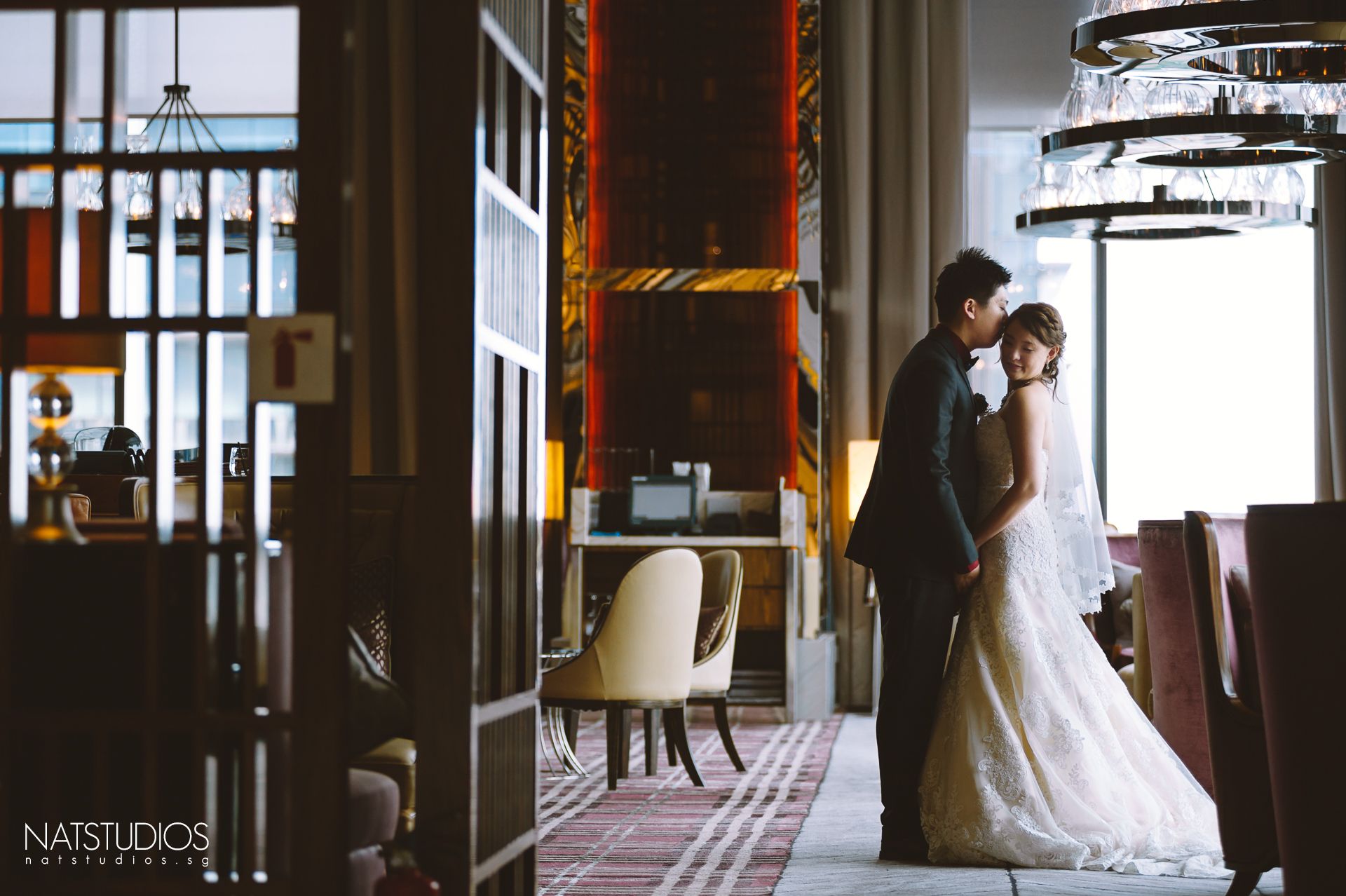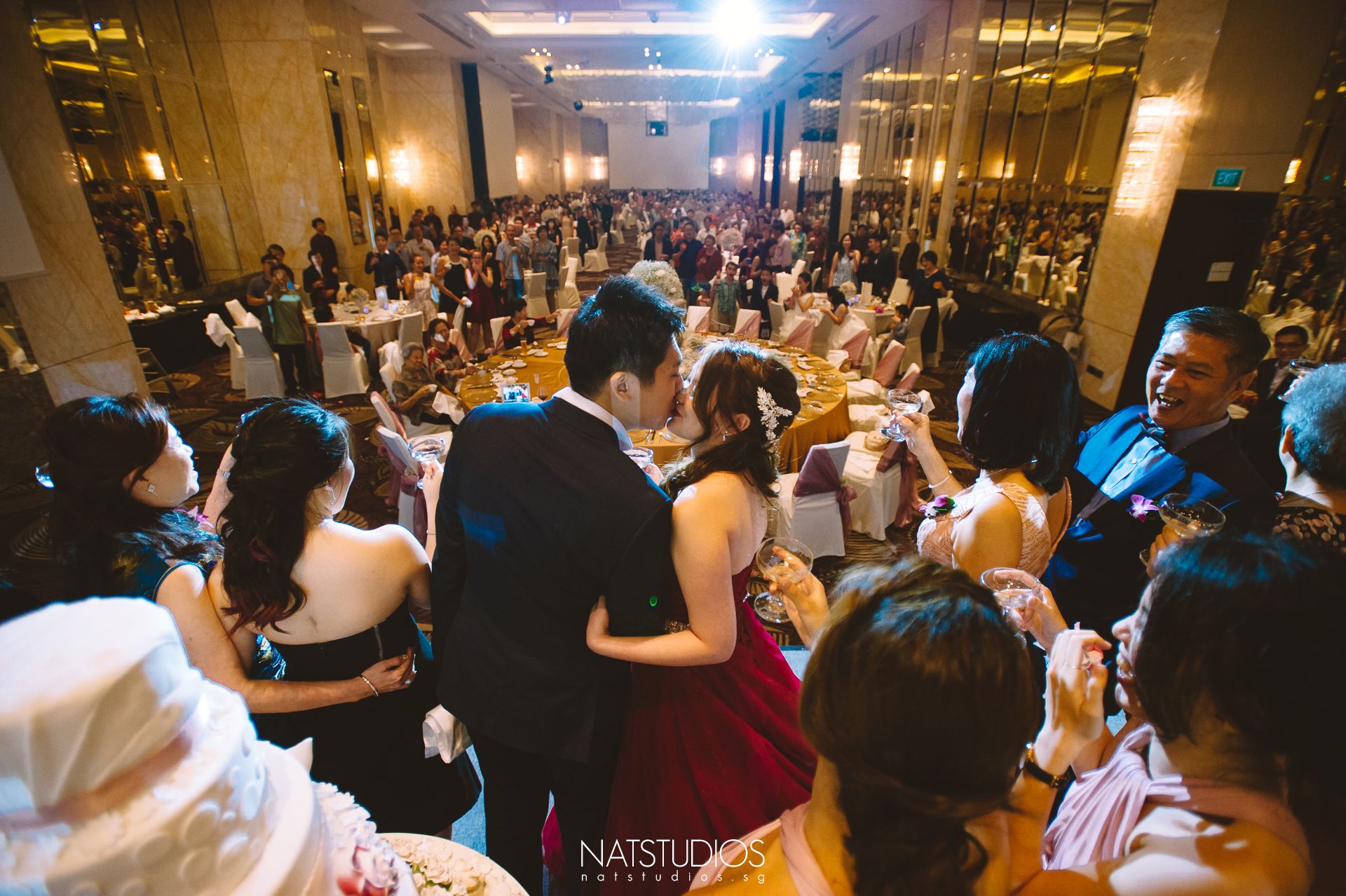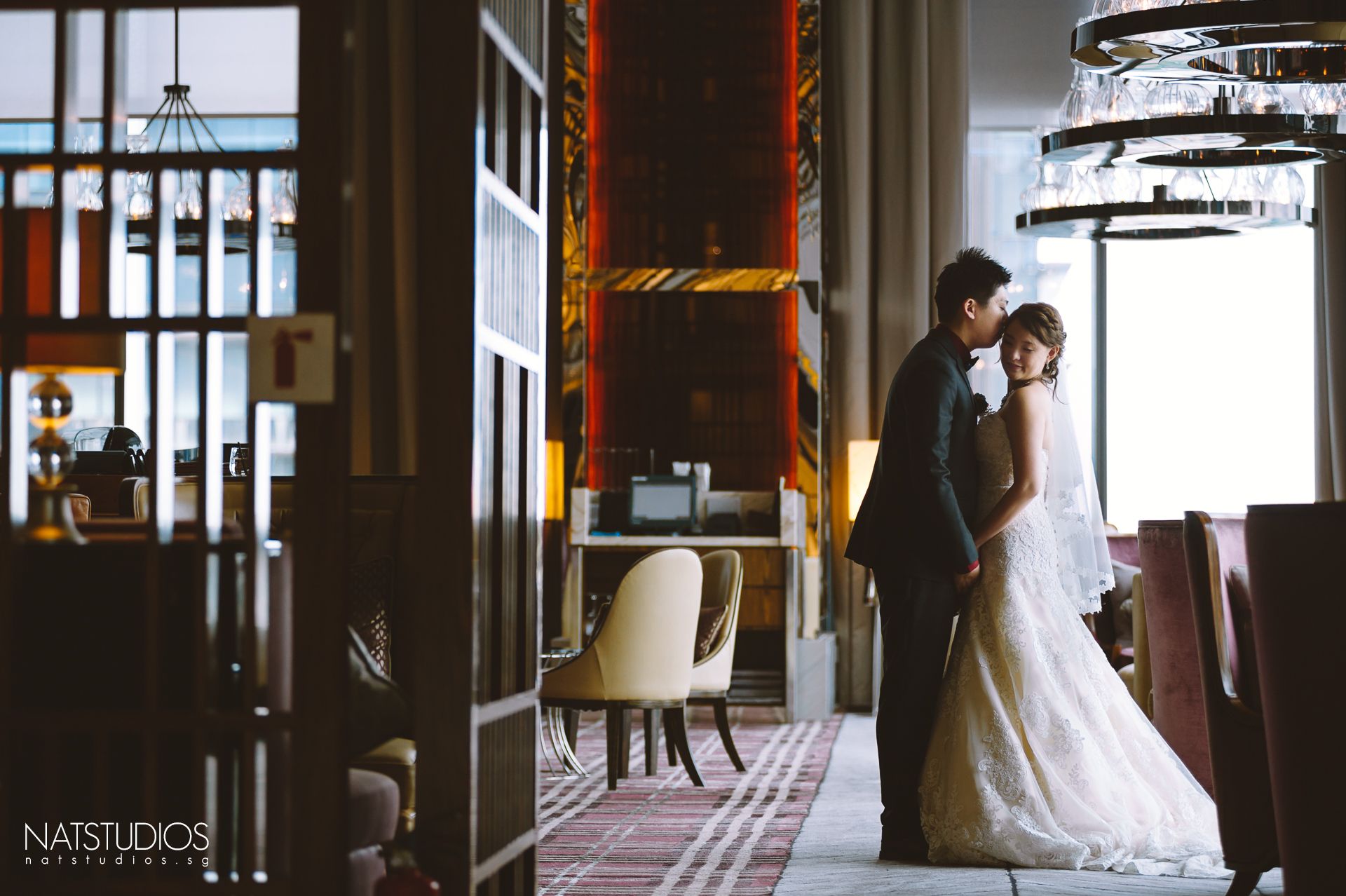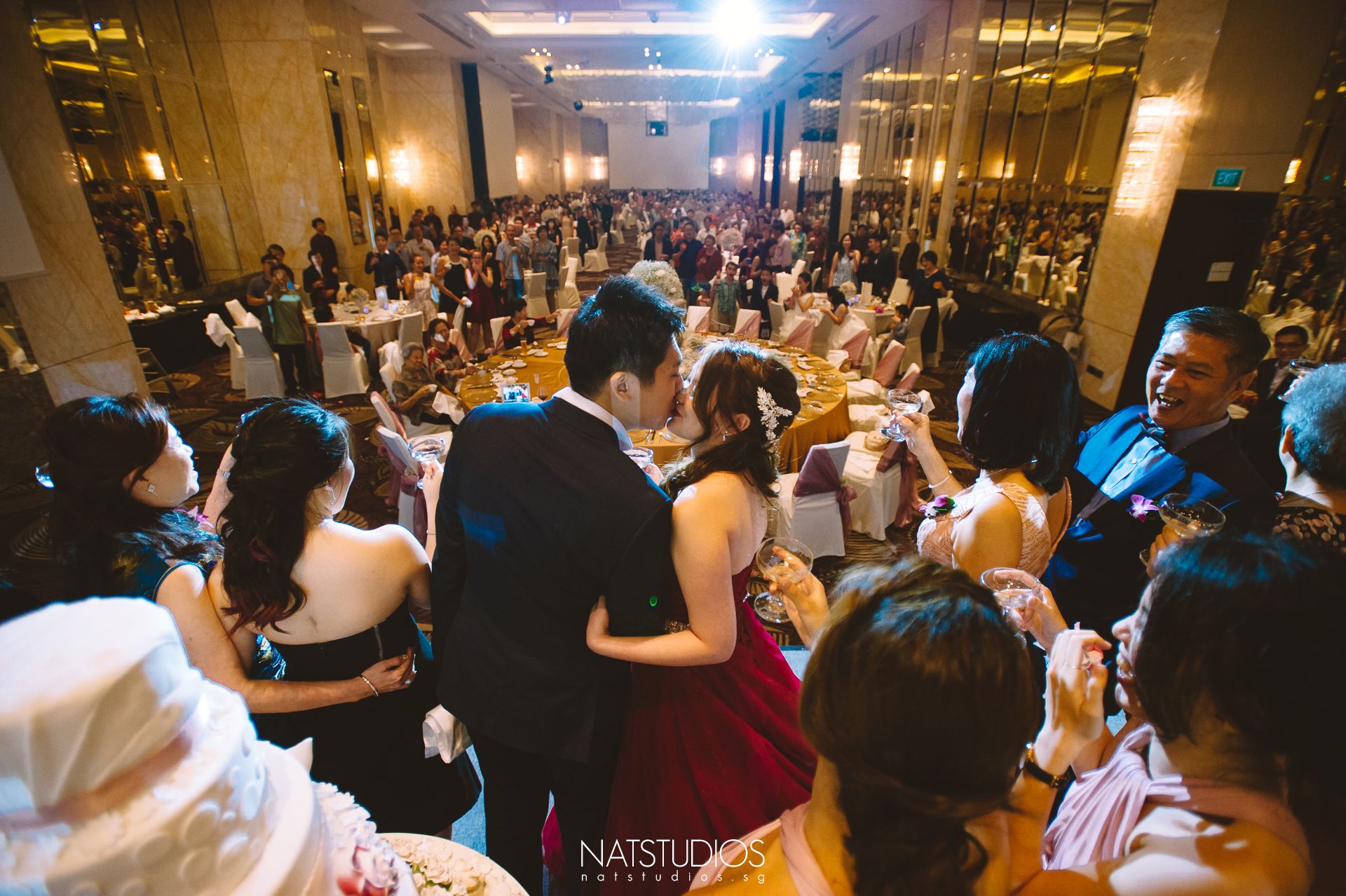 Nevin and Xiefen
My husband and I held our wedding at the Westin on 14th May 2017, and all our guests as well as ourselves are extremely satisfied with the food and service we have received! The three main reasons why we had chosen the Westin as our wedding venue was because there was only one ballroom with a foyer and reception area attached, which eliminates unnecessary confusion of heading to the incorrect wedding celebration; the food menu which was uniquely different from the others, and also, not forgetting, the excellent service delivered by Eddric, our wedding coordinator. He has helped us a lot throughout the whole process, from briefing us on what to expect during the preparation phases, communicating and reminding us on the key milestones and things to be done and also resolving our last minute issues like additional pax and tea ceremony arrangements. He is very attentive to our needs and flexible in terms of the requests we raised. On the actual day itself, he has also personally accompanied us during our march-in which I found very heartwarming! Kudos to Eddric! I would definitely recommend The Westin Singapore and of course Eddric to anyone out there looking for the perfect hotel to host this very special day!
- Xiefen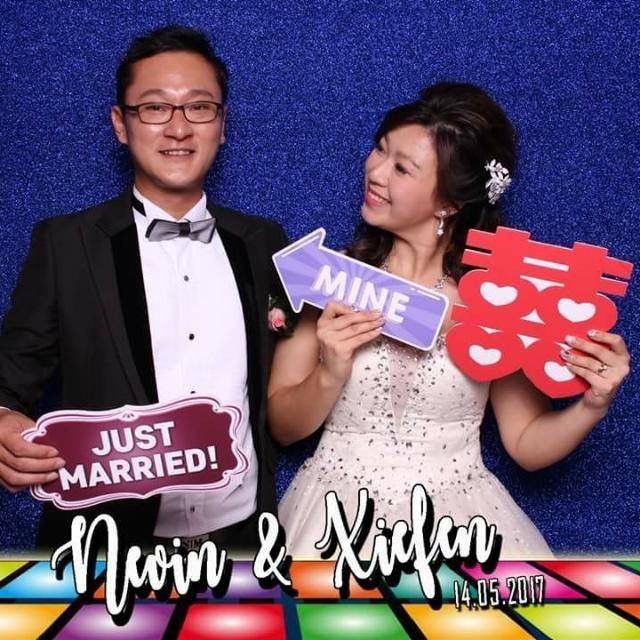 Randall and Pearlyne
It has been a day since our wedding dinner and I have to say that we made the right decision going with 'The Westin' as our wedding venue.
To begin with the service from Agnes and the events team has been splendid from the get-go. Thank you for being attentive to all our numerous questions and clarifications, helping to ensure that we were well taken care of during the stay here.
The banquet team that attended to us was phenomenal. Ronald with his excellent overall oversight as the Banquet Manager helped to ensure that the whole dinner went smoothly for us. YJ provided us with tremendous assistance for the tea ceremony and the dinner, her experience and professionalism showed as she was able to pre-empt our various needs.
Notable mentions for the rest of the banquet team and Rusdy the AV technician. I hope that these individuals and teams who have gone above and beyond get the recognition they deserve as they perform thankless tasks which make the difference to us both during one of the biggest celebrations of our life.
If this is the level of service that The Westin embodies, you can definitely count on us to be loyal customers. Keep up the good work and attitude team!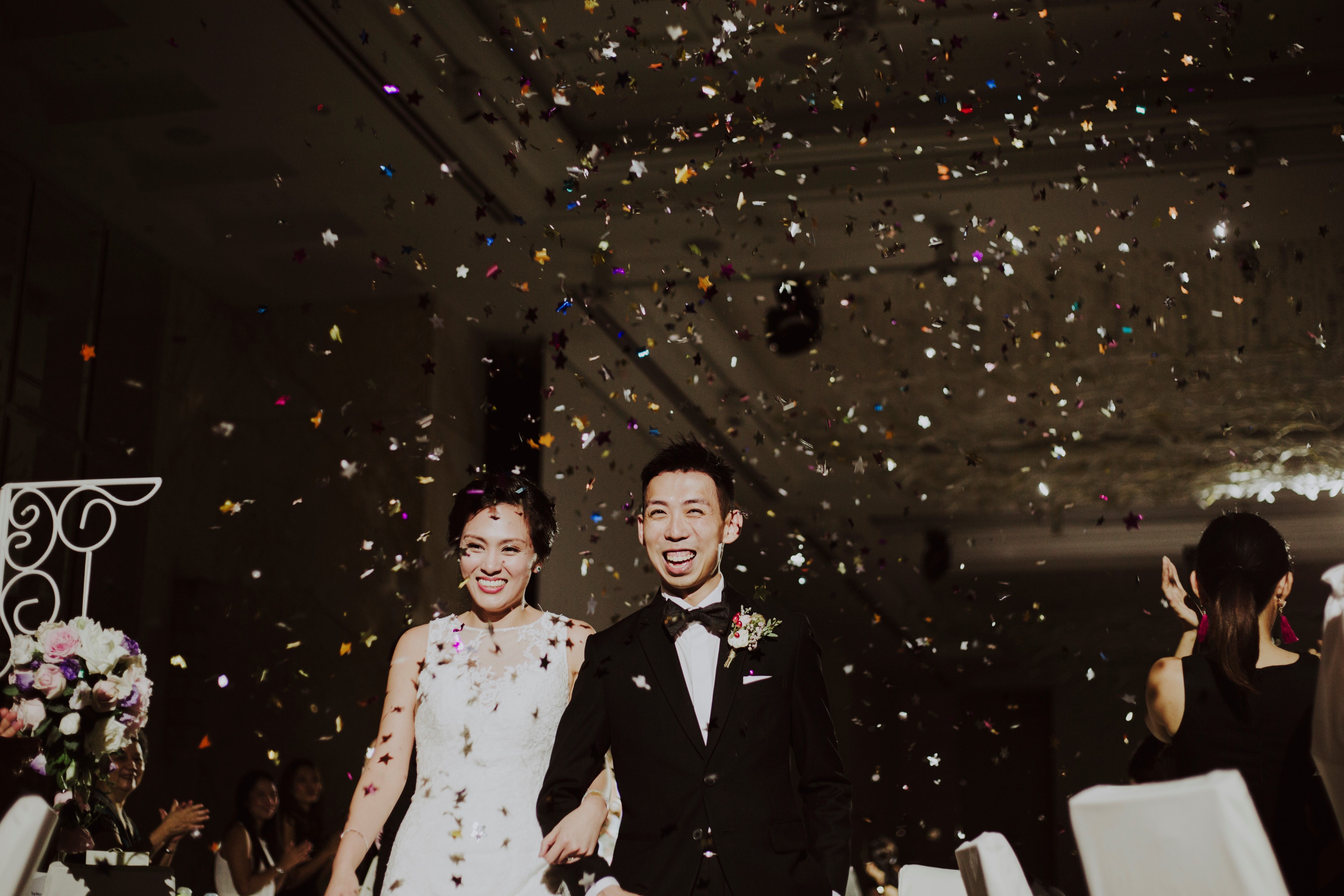 Desmund & Filvi
I wish to compliment Eddric Yang on his exceptional fine service!
Few months back, I was looking for a great hotel with a spectacular view to hold my solemnization. Being a very picky person, I went over to 10+ hotels to search for the perfect location until I came across Westin Singapore and met Eddric Yang. During that time, I shortlisted my choices to 2 hotels, but it was Eddric who accommodated to most of my very difficult requests, and his sincere and prompt responses made me decide to hold my life event in The Westin Singapore.
On the day of solemnization, as many people will fear, the sequence of events were delayed due to unforeseen circumstances. When issues cropped up, Eddric was there to slowly solve the problems! One key moment I remembered vividly was when we were very disappointed that we had to move the solemnization ceremony from the infinity pool to the meeting room due to bad weather conditions. Eddric was there again to help and tried to delay the moving of the entire ceremony downstairs to see if the rain could stop in time. Although in the end we didn't manage to have the ceremony beside the infinity pool as planned, Eddric helped to get permission for us to rush up to take some group photos with my guests which made everyone really delighted. Thank you Eddric!
During the dinner reception, I was really surprised that halfway through the dinner, Eddric came in to congratulate me and asked if everything's fine when I had guessed that he had already left for the day. Everything ended well that day. Eddric, thank you for being there for me and my wife. Things have moved so smoothly with you around. Thank you to all staff at the reception too for the great service and hospitality for all my guests.
To end my letter, my wife and I would like to thank The Westin Singapore and in particular, Eddric Yang, for making our solemnization a memorable and fantastic one. Thank you!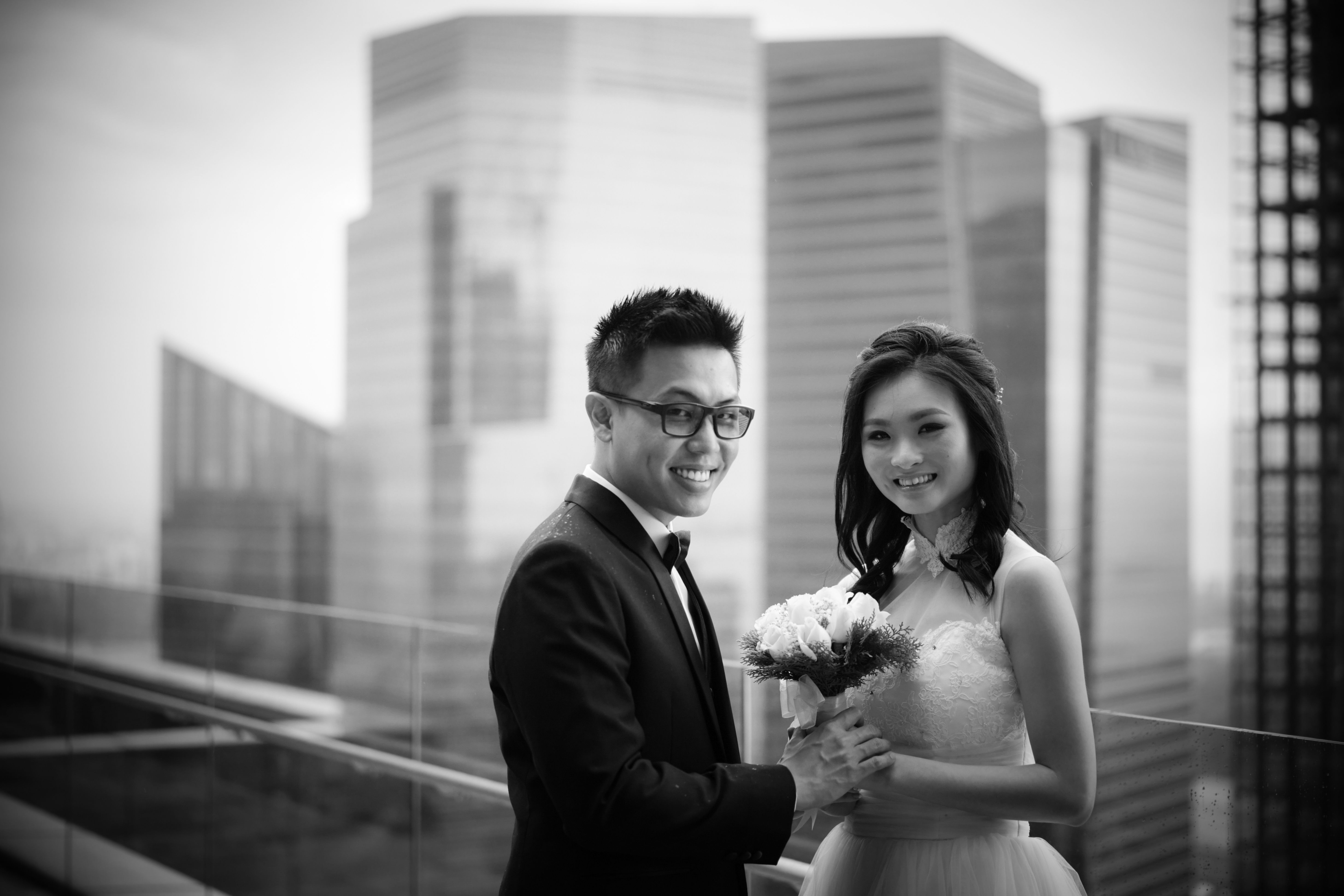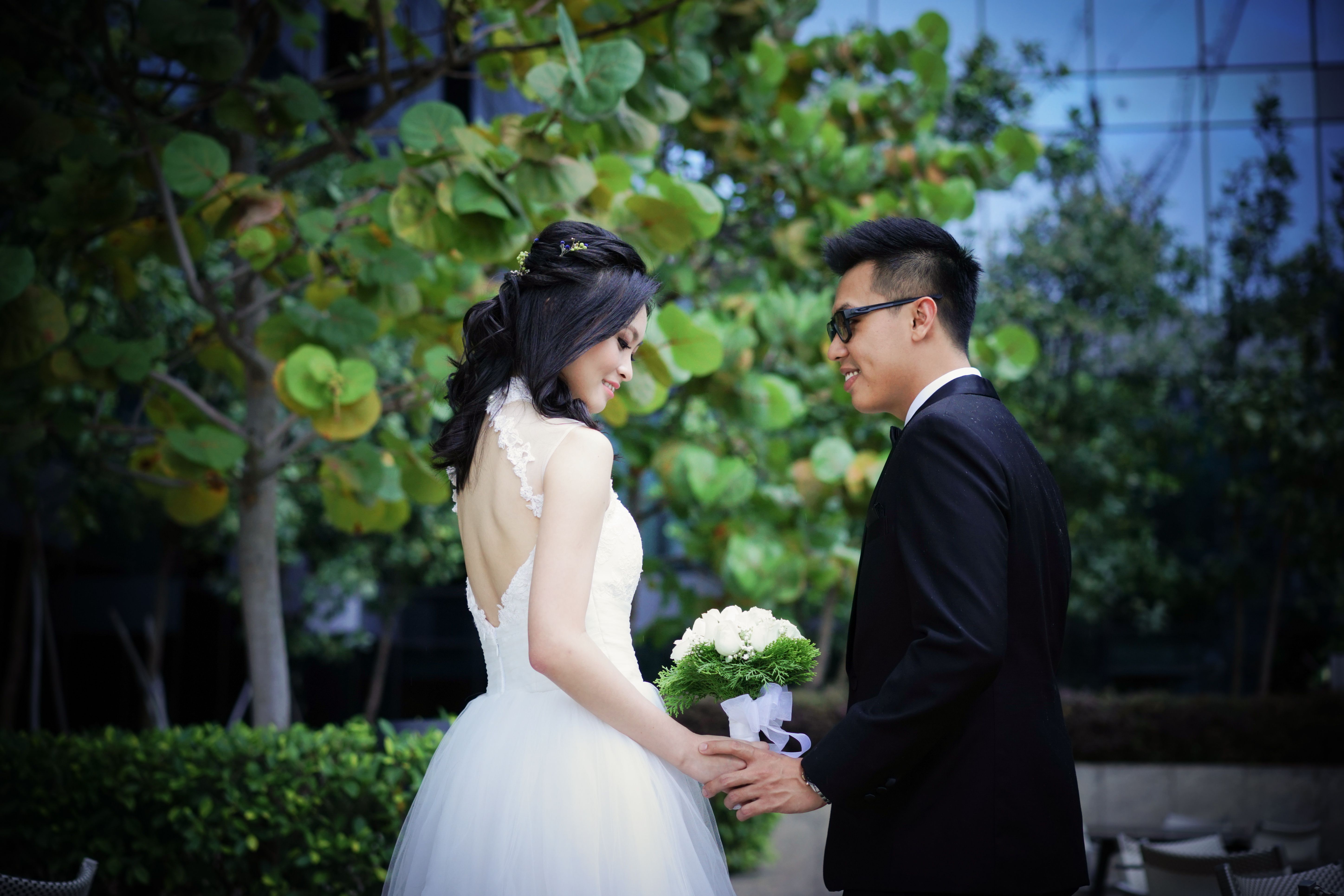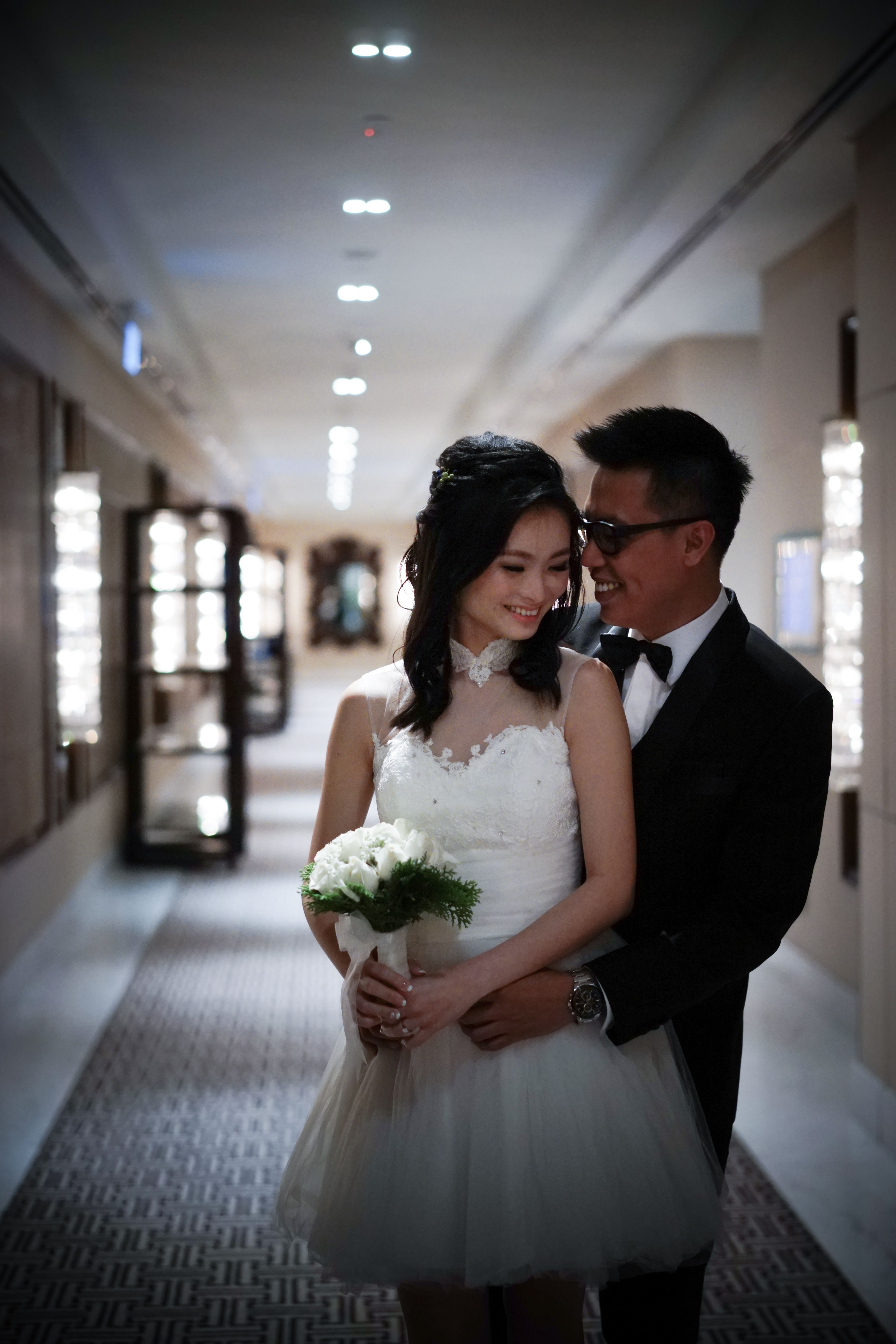 Chi Qiang & Yu Jie
Chi Qiang and I held our wedding banquet at The Westin on 3 September 2016. It was an event that we hold dear and we are so happy that it turned out to be so memorable. With that, we would like to extend our heartfelt thanks to our hotel coordinator, Eddric Yang, and the Westin team. We are indeed so blessed to be assigned with a helpful, responsive and responsible coordinator who upholds great service and professionalism. He has been very assuring and ensured that everything turned out smoothly and indeed it did. We had a lot of compliments from the guests for the food as well. A BIG thank you to the great chefs and a wonderful team of service staff!
- Teo Yu Jie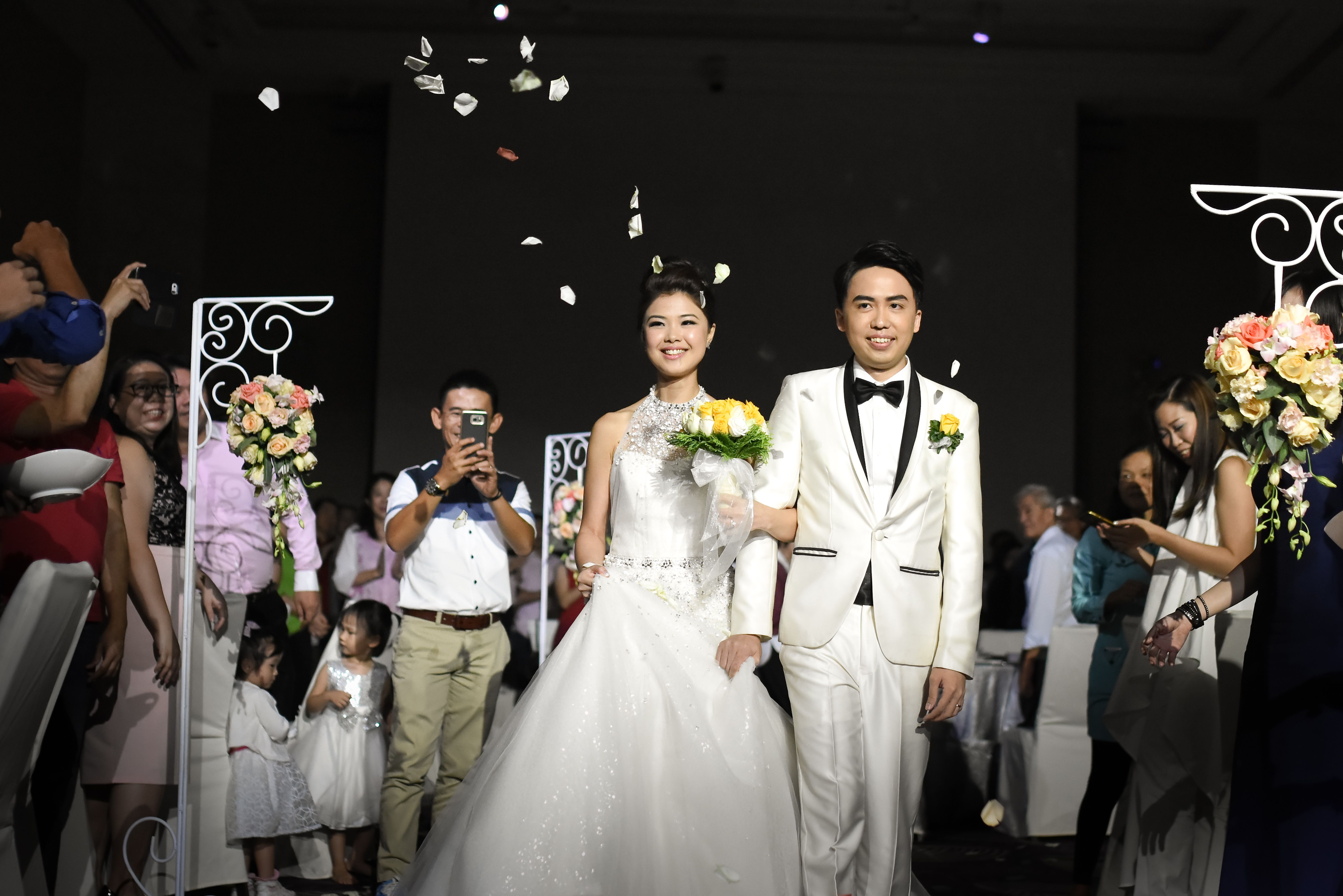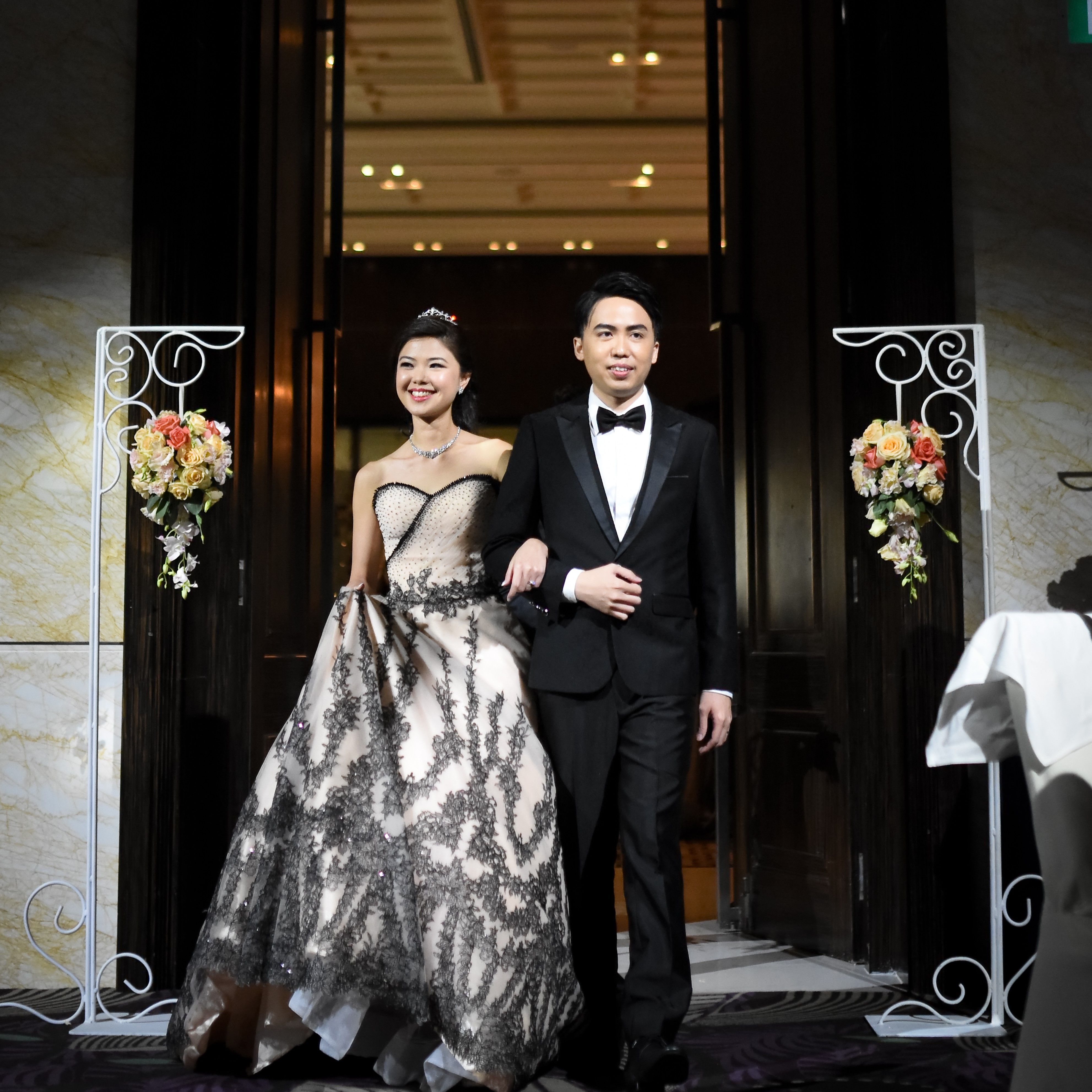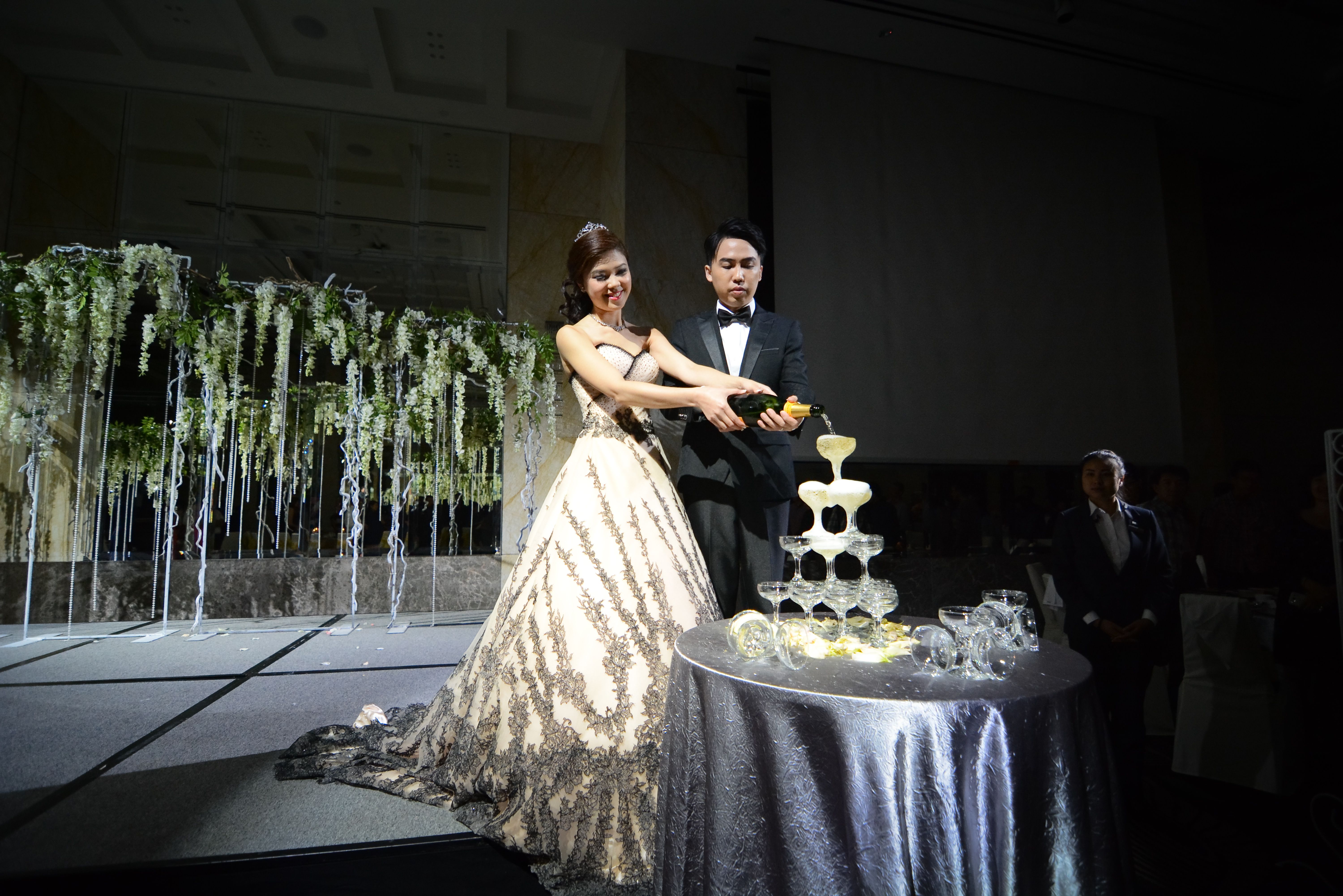 Samuel & Janice
We would like to congratulate your team in planning and executing our wedding banquet to near perfection on 28th May 2016.
We would like to highlight the extraordinary services provided by our wedding coordinator, Lek Sheau Wen, Assistant Sales Manager, Catering & Group Sales. She was always prompt in her replies and willing to go the extra mile in helping us resolve issues. Her experiences in wedding planning definitely helped us throughout the stressful journey. We were always assured knowing that there was someone experienced and reliable we could count on.
We would also like to thank the banquet chef for the delicious food which our guests were more than satisfied with, and also Hisham, the banquet manager, and his team for the excellent service provided to my guests.
We were pleased to share this important milestone with our guests in The Westin Singapore.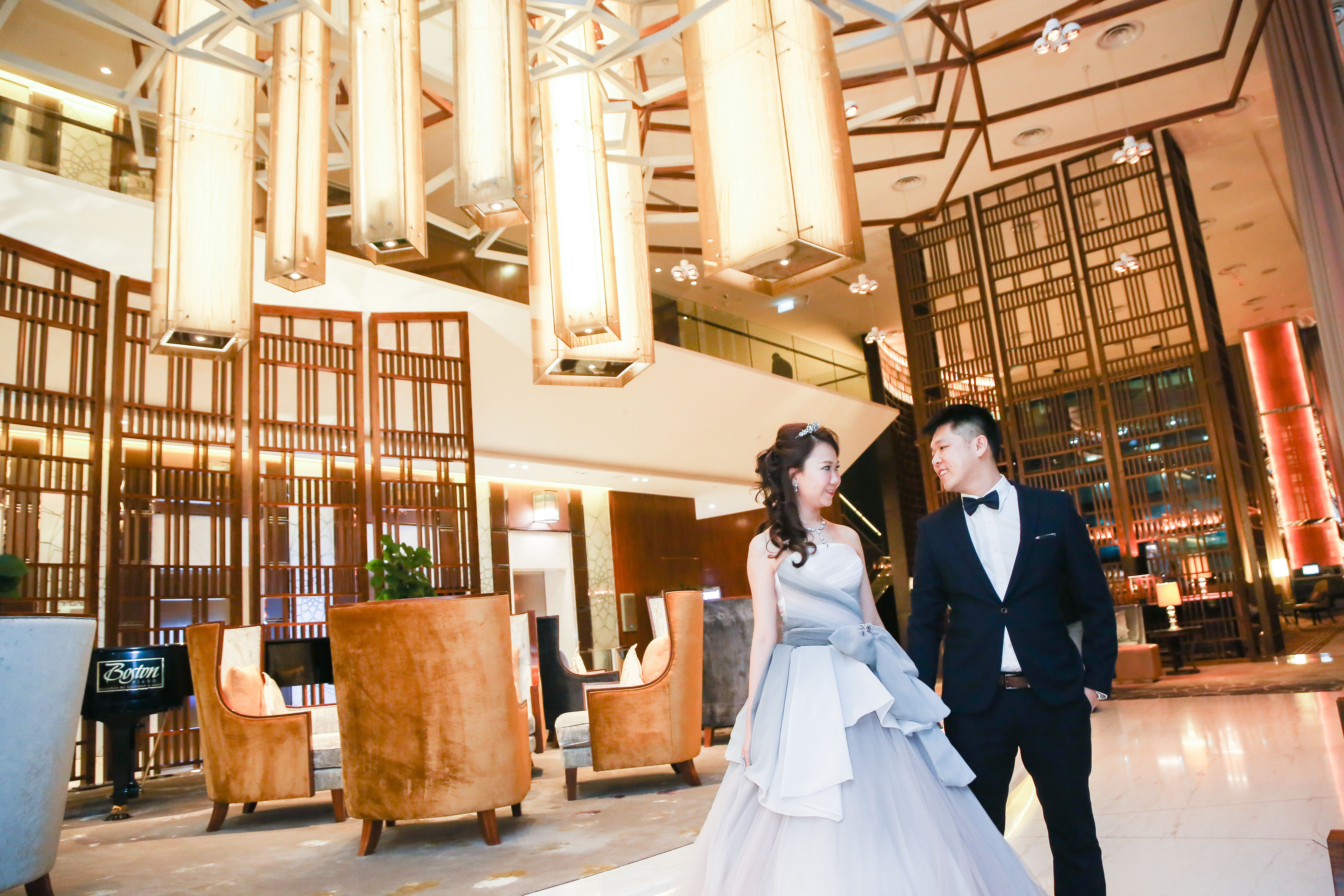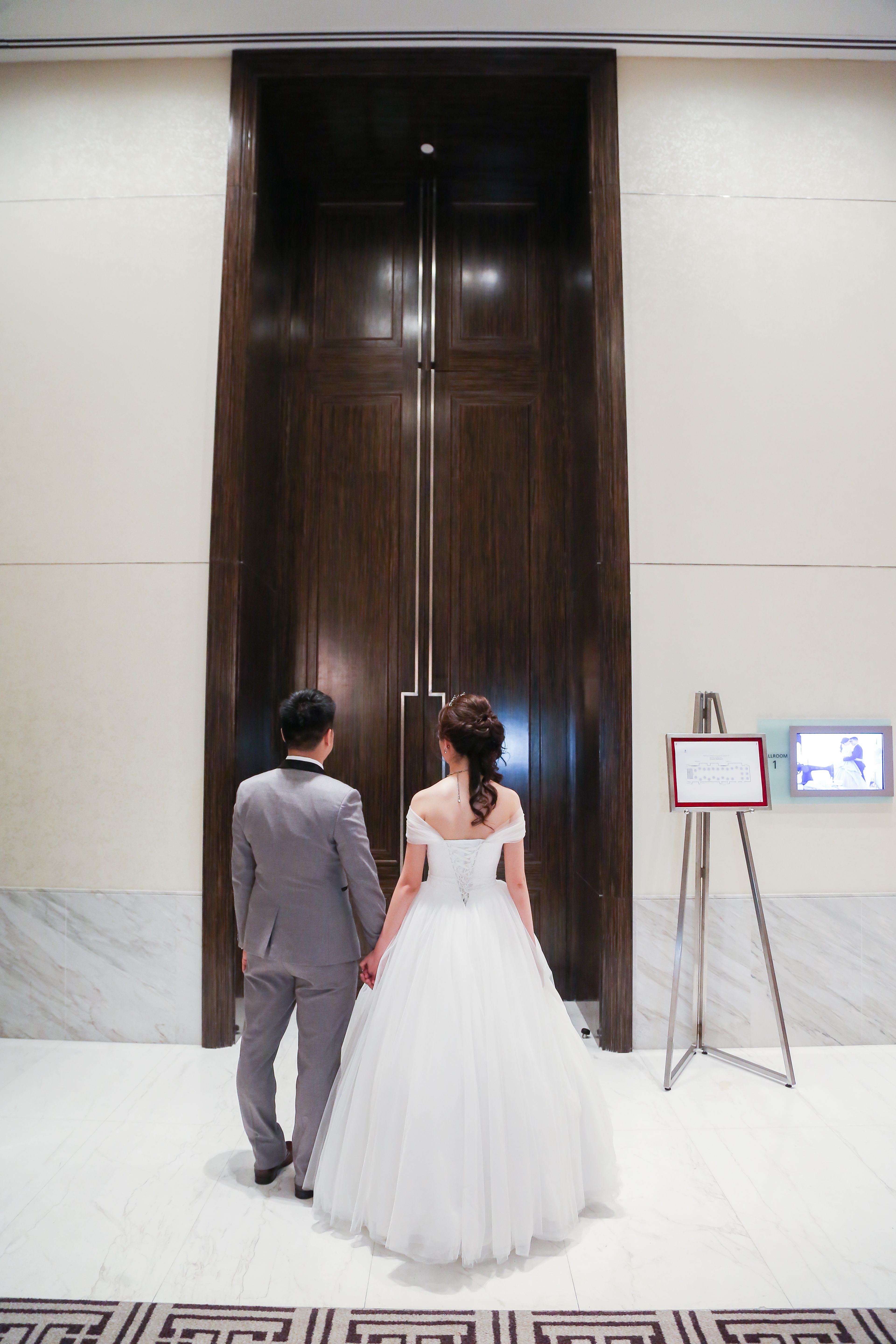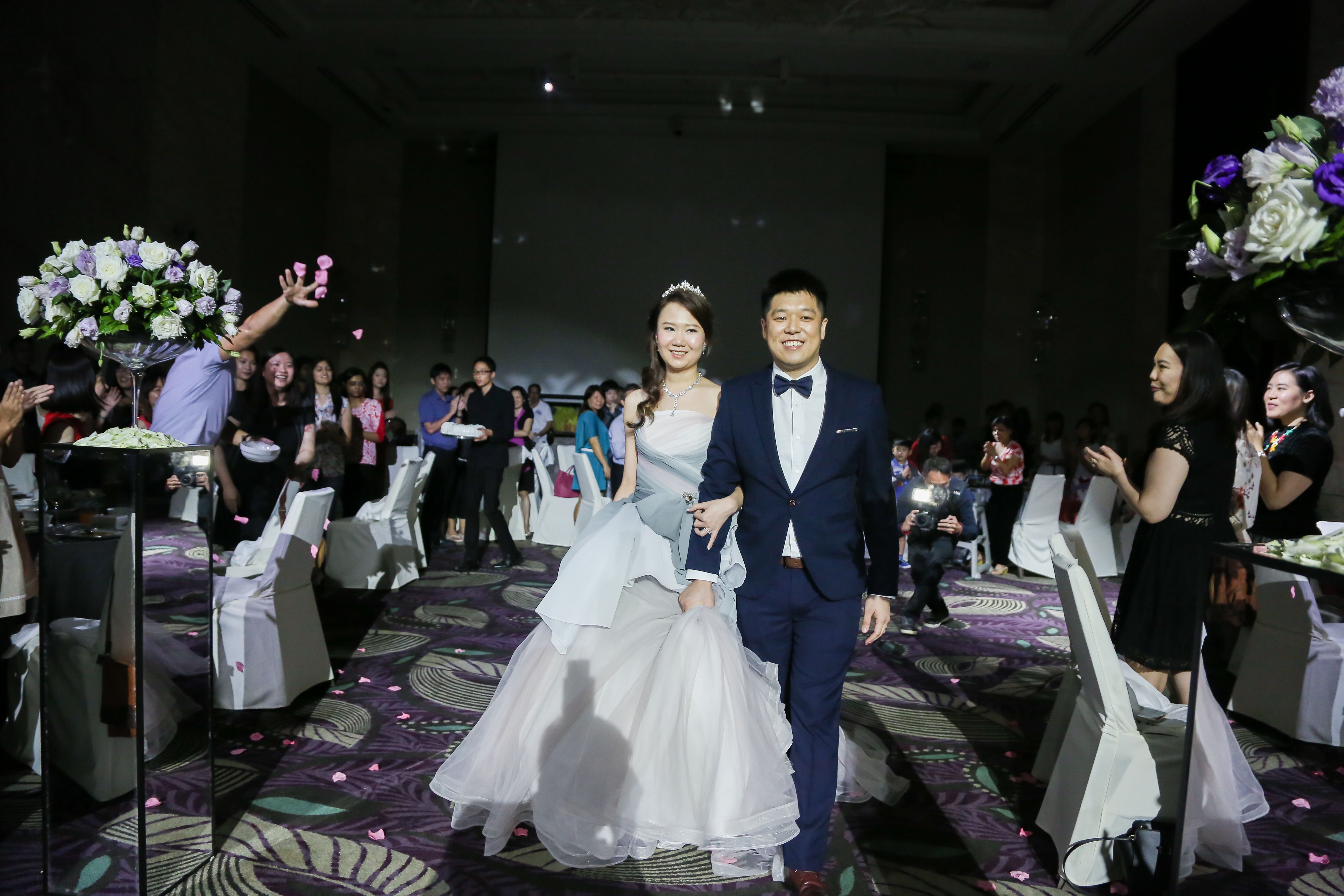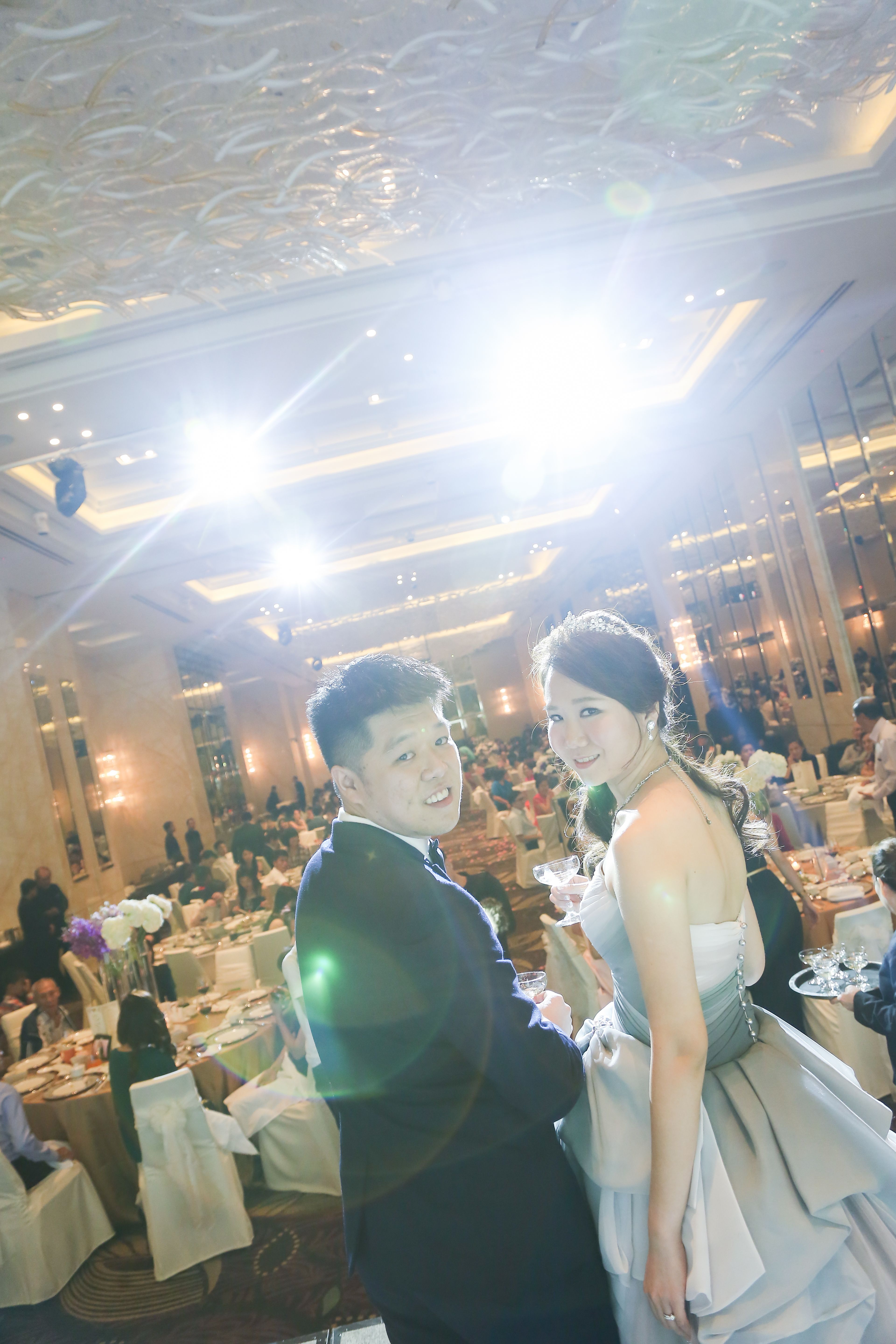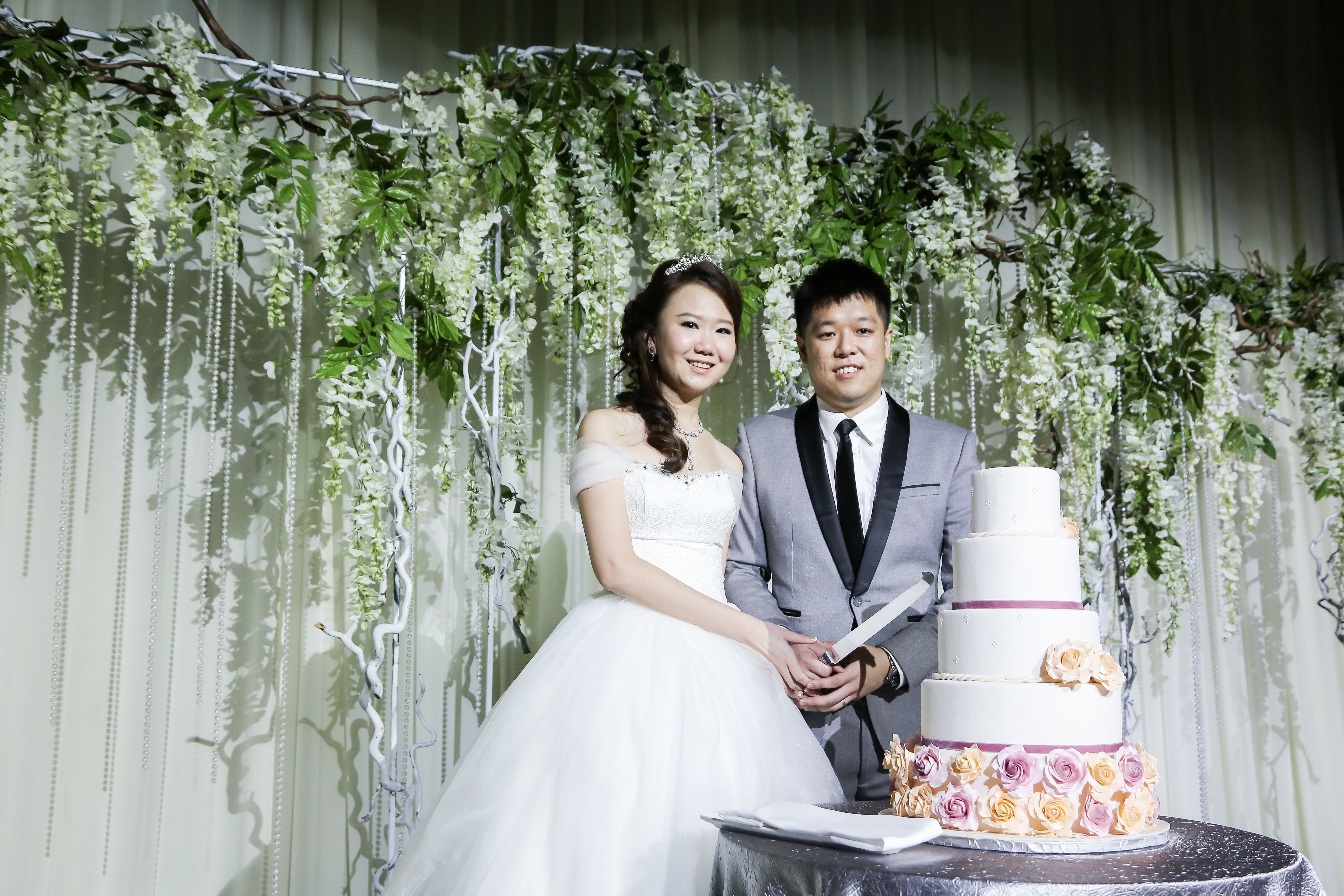 Marcus & Kellyn
Marcus and I had our wedding at the Westin and it was such a smooth and memorable day for the both of us, our family and friends. We had great reviews that food was awesome and the set ups at the solemnization area and ballroom were beautiful. The stay in the bridal suite was heavenly and the personalized pillows was the sweetest touch.
We would like to say a heartfelt thank you to the Westin team especially to Eddric who followed up with us promptly, tirelessly and patiently in this whole wedding planning process through to the day after the wedding when we checked out. Thanks Eddric for your dedication in making our wedding hassle free and as perfect as can be, we truly appreciate everything you did for us :)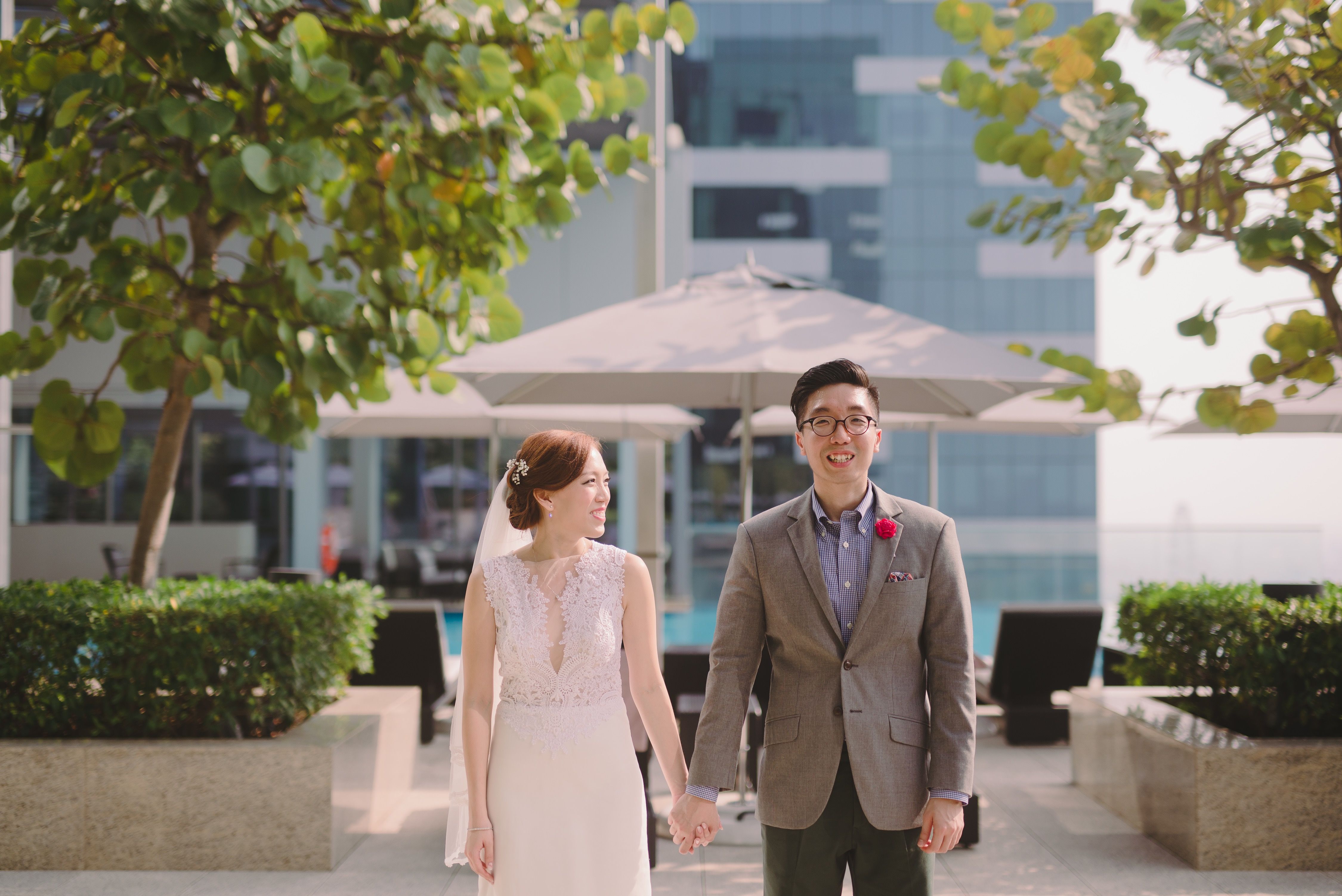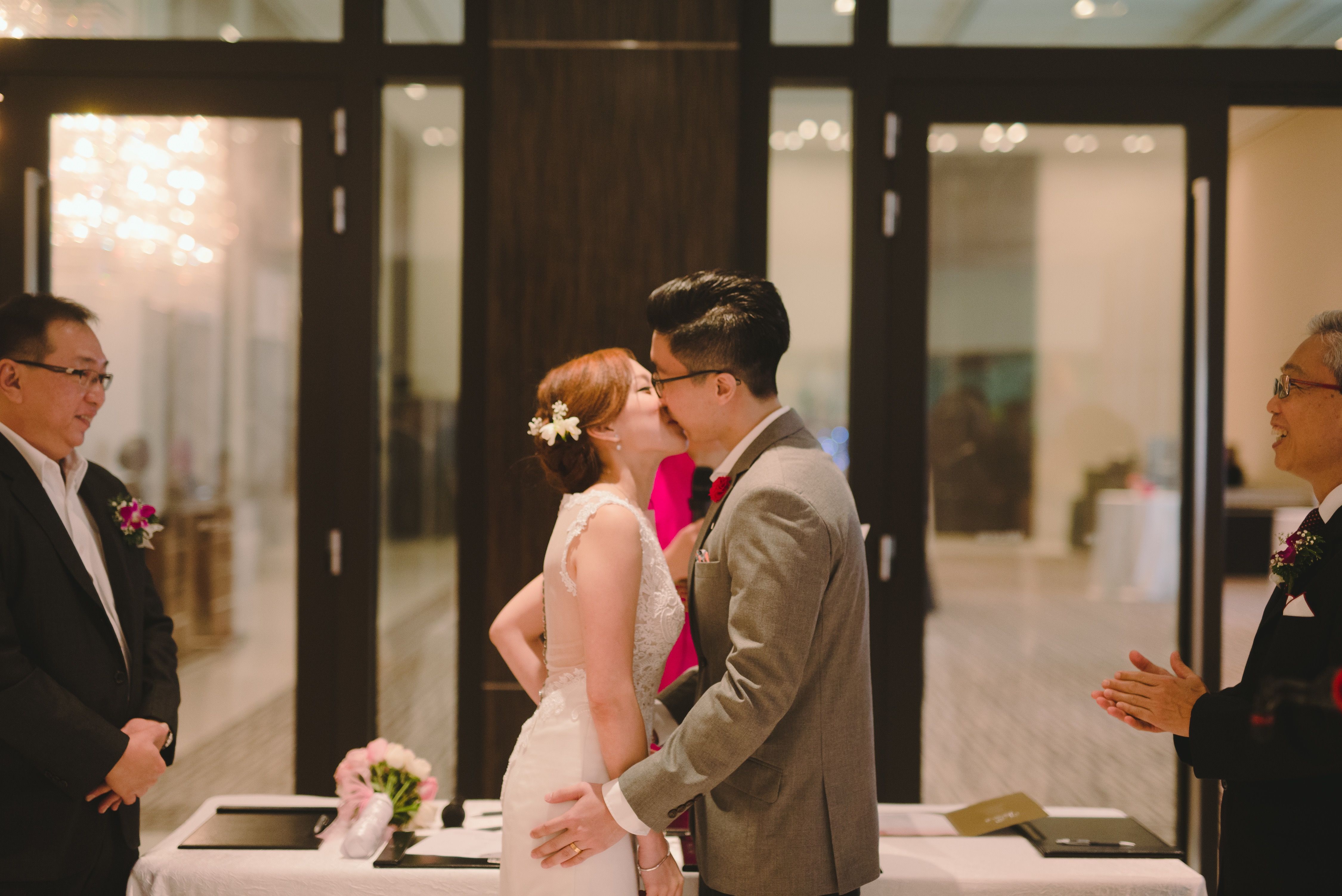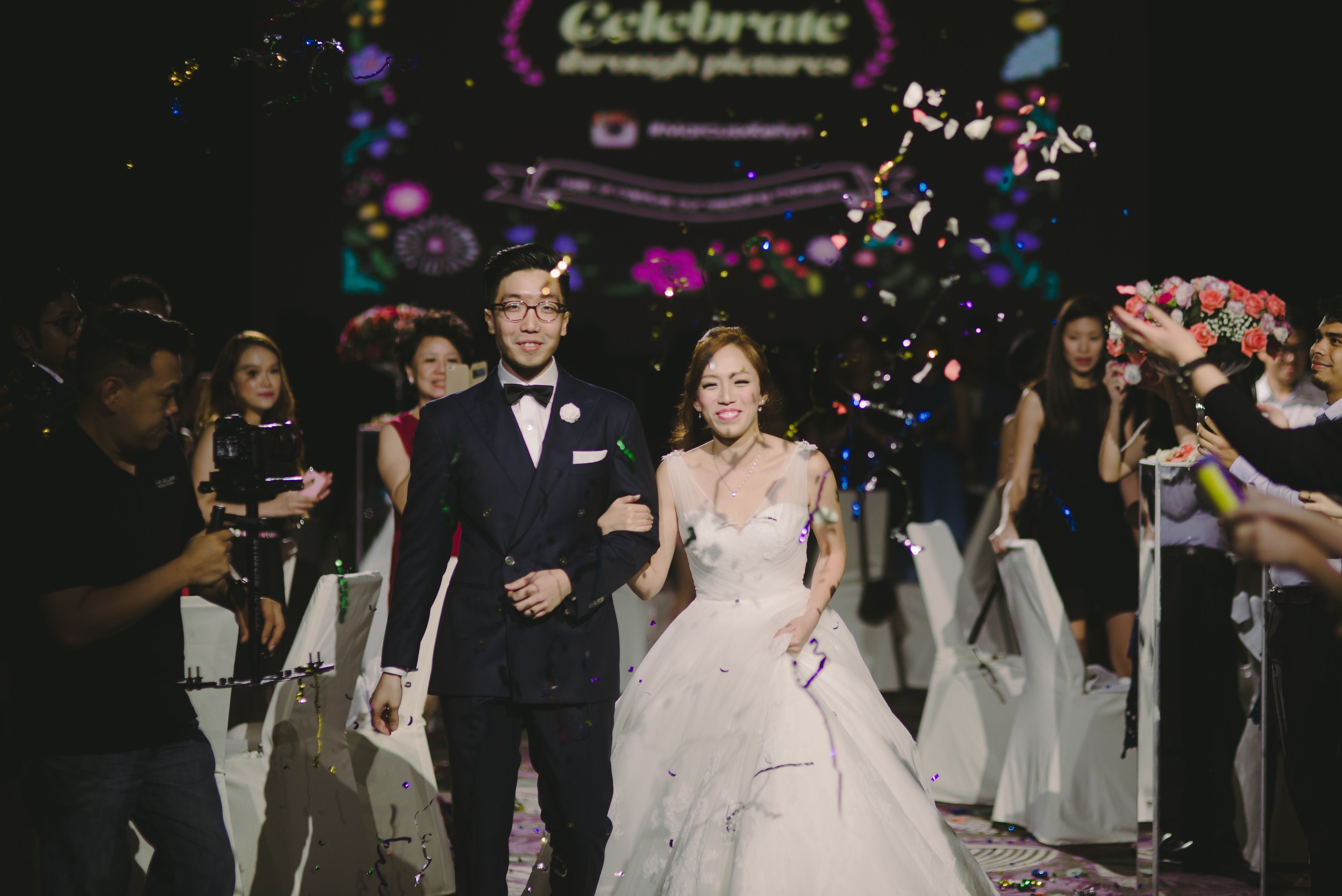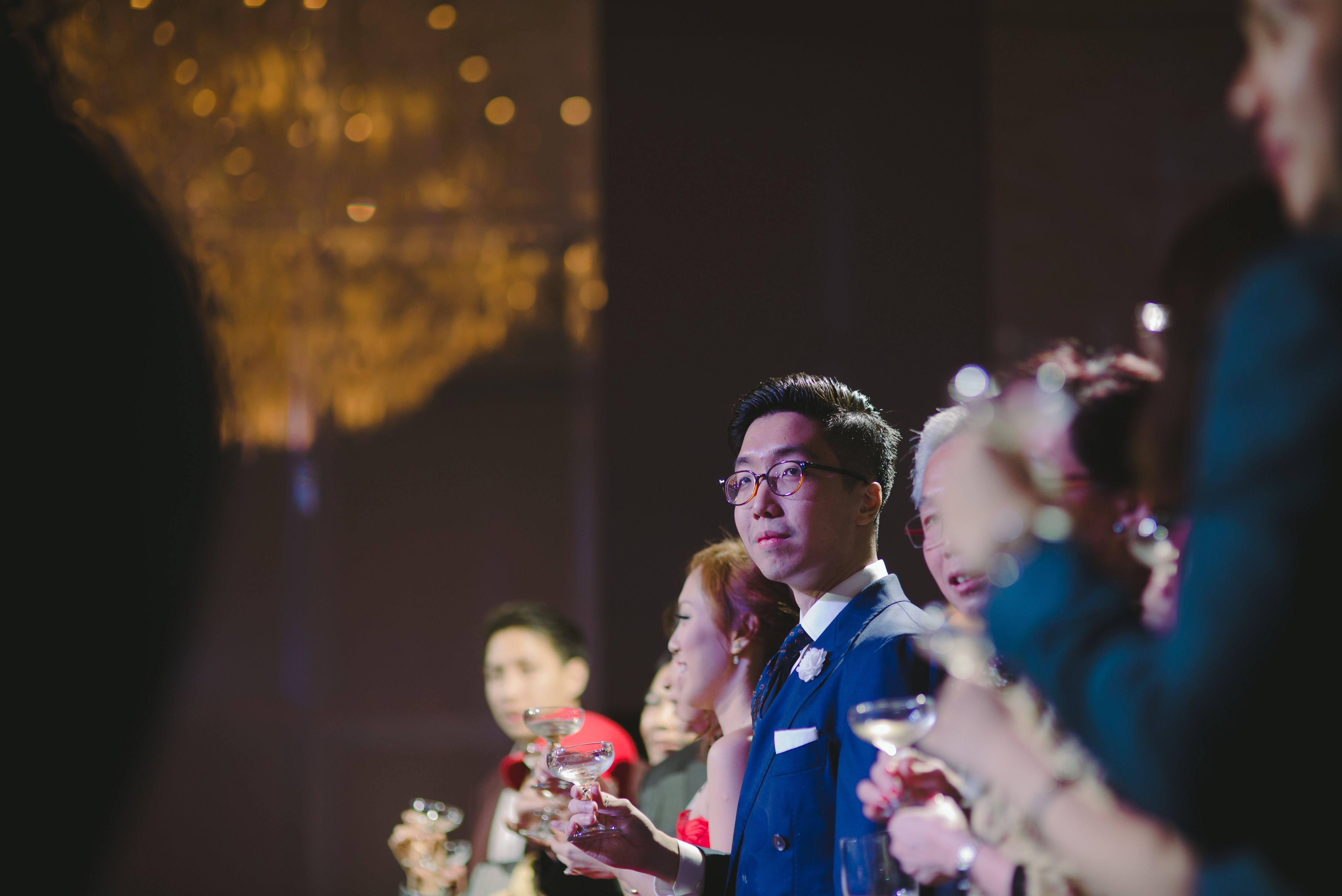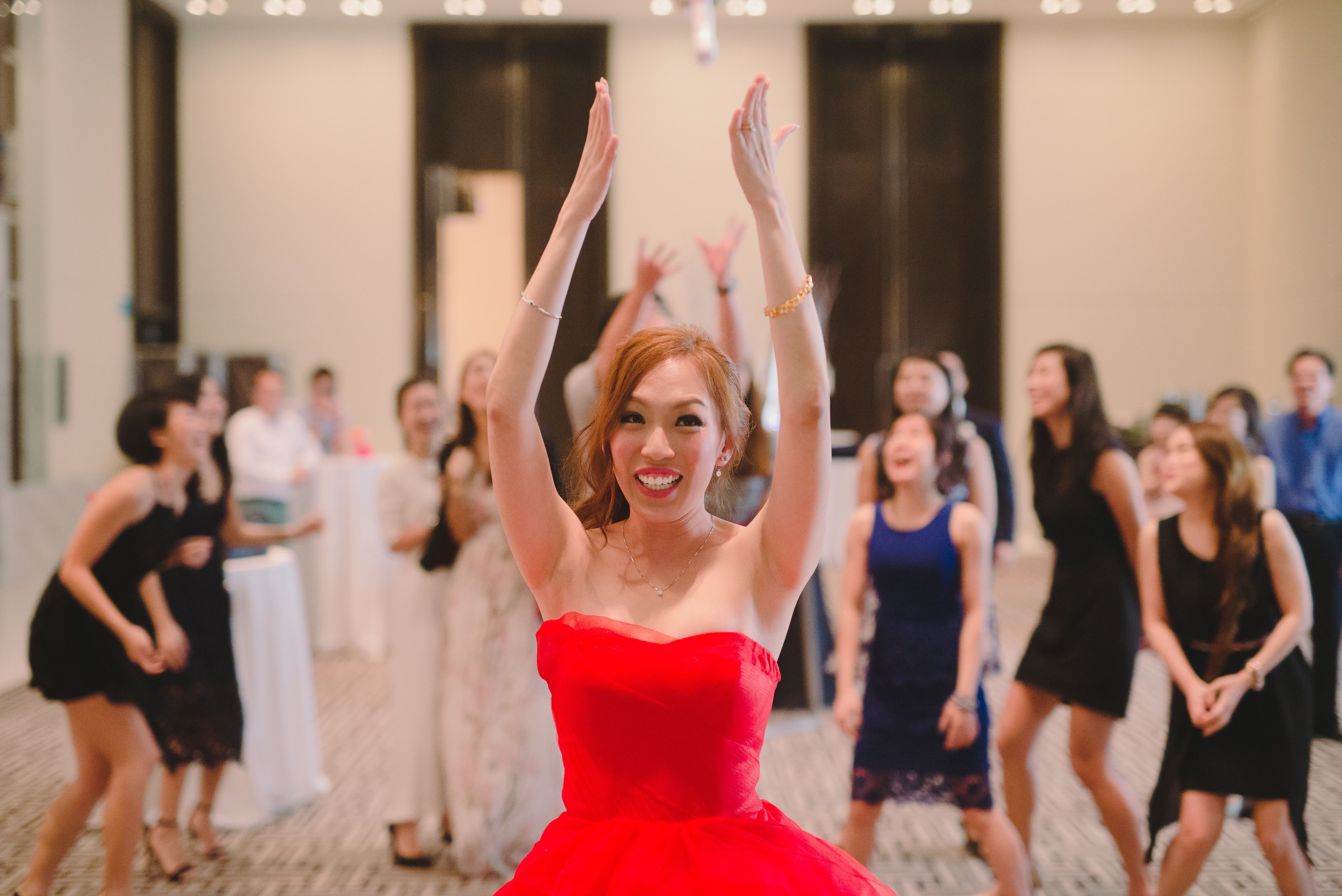 Ivan & Fancy
The best decision that we've made for our wedding party was choosing The Westin Singapore. Awesome hotel and crew leaves us unforgettable and great memories.
Thank you, The Westin Singapore.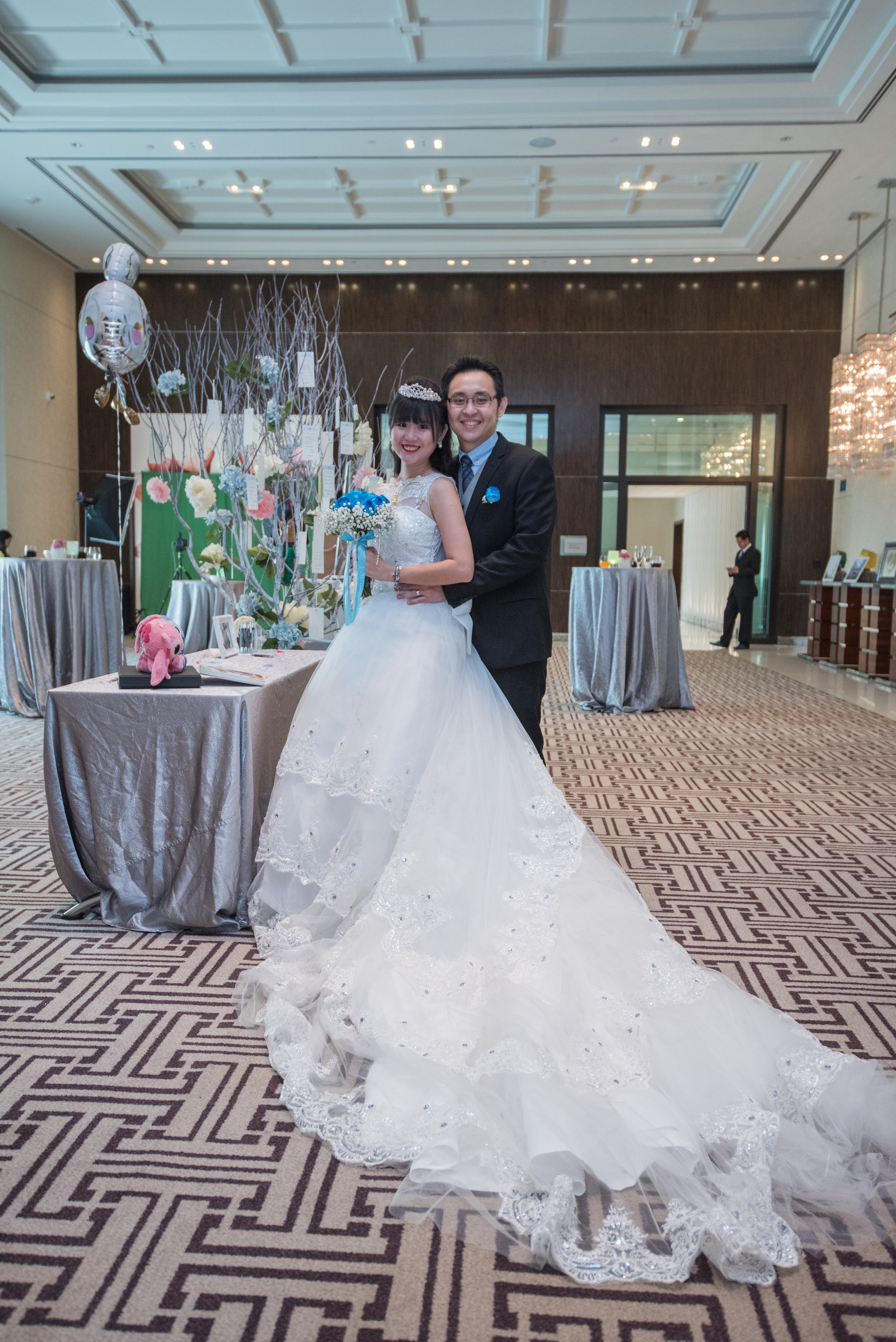 Gerald & Zhi Xin
From our first wedding planning visit all the way till the wedding banquet itself, Sheau Wen has been ultra dedicated in making the most important night of our lives perfect. Zhi Xin and I were especially thankful that The Westin Singapore was so accommodating with our requests. The most commonly talked about thing amongst all our relatives and friends has got to be the quality of the food and its presentation. Together with a pillarless ballroom and a castle high ceiling, Feb 20 will always be etched in Zhi Xin's and my mind as the dream wedding we've always wanted.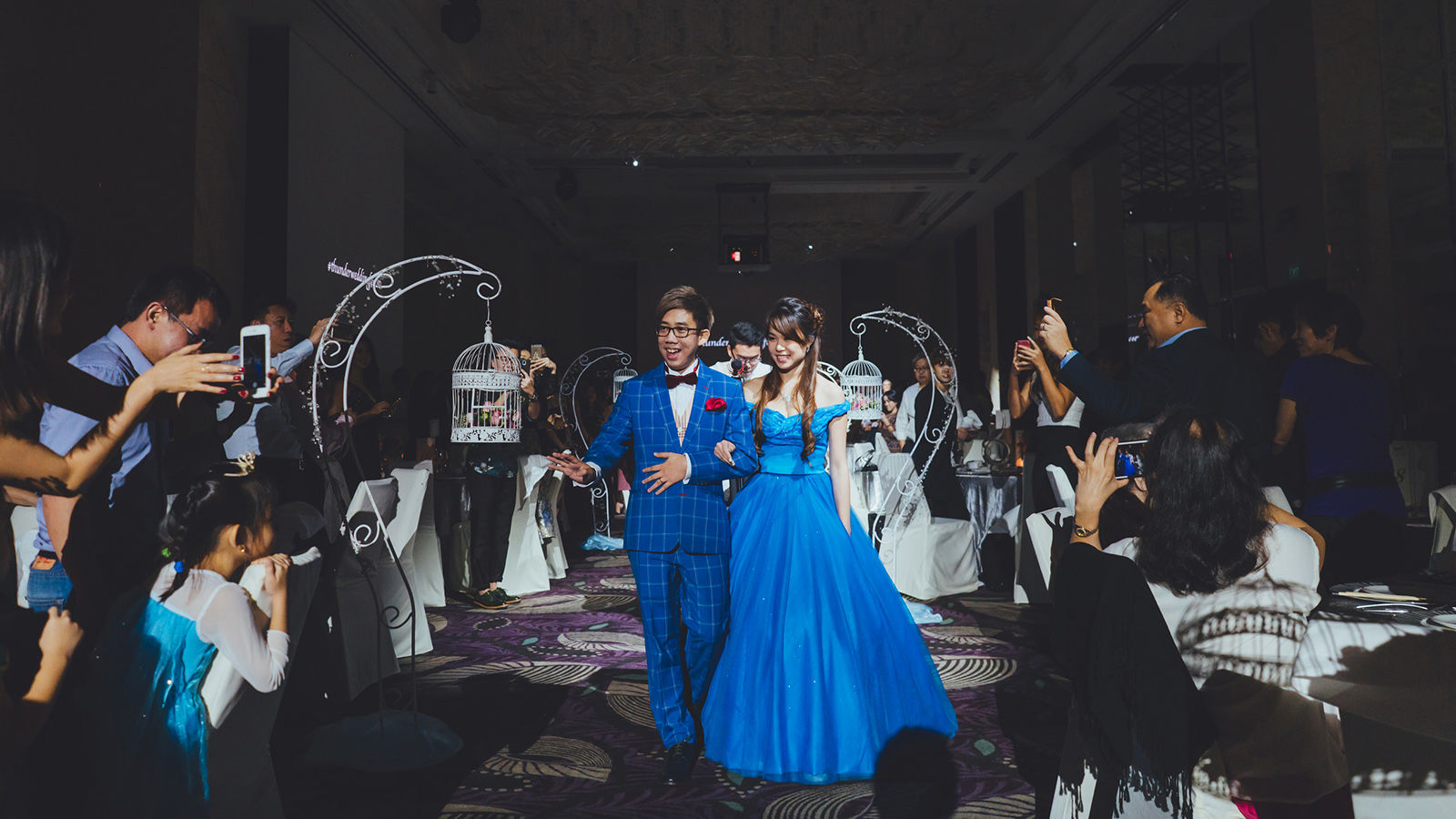 Chia Yee & Huey Naa
The hotel is incredibly clean, modern, and chic - my wife loves the ballroom design. Our guests had a wonderful afternoon at the wedding reception and we have received so many compliments from them on how delicious the food was and how generous the portions were. Prompt and professional staff attended to our guests' needs. Special thanks goes to our coordinator, Sheau Wen, for helping us throughout the whole preparation, patiently replying our long list of enquiries and accommodating our needs.